Tajikistan 'attack' leaves four foreign cyclists dead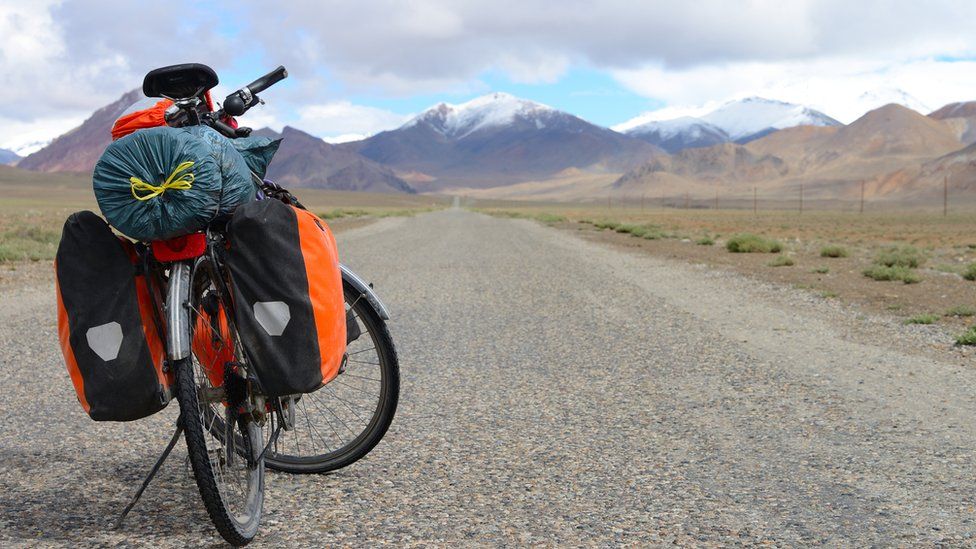 Four foreign cyclists killed after a car hit them in Tajikistan on Sunday may have been victims of a deliberate attack, local officials say.
Two Americans, a Swiss and a Dutch citizen died on Sunday in the Danghara district, about 70km (43 miles) south-east of the capital Dushanbe.
Three other tourists were also injured by the car, which then drove off.
Two people suspected of involvement in the incident were later killed by authorities in a special operation.
The Islamic State (IS) group has claimed it carried out the attack on "citizens of the crusader coalition".
According to the interior ministry, another four people were arrested in the same operation and a damaged car believed to have been involved was recovered.
Another three suspects were "rendered harmless" after being traced to a village, officials said. It is unclear exactly what this means, however, Prague-based privately-owned Tajik news website Akhbor suggested they had been killed.
Interior Minister Ramazon Rahimzoda said police were looking into various possible reasons for the incident - a road accident, robbery or a "terrorist act".
He said the suspects "had knives and firearms".
A video which appears to be of the same incident seems to capture the moment the car is driven into the unsuspecting cyclists. The grainy footage also seems to show a number of people already on the ground.
According to the minister, three of the tourists died instantly and one on the way to a nearby hospital.
"One had knife wounds, he received medical help, now his condition is stable," Mr Rahimzoda told reporters.
"Another person is in a state of shock, he is receiving medical help as well. A third person, who fell behind the group, was not harmed so he was taken to the local (police) station, questioned and set free."
On Monday, Tajikistan's President Emomali Rakhmon sent notes of condolence to the US, the Netherlands and Switzerland.
The victims were on a tour in the Central Asian country in a group with three other tourists from France, the Netherlands and Switzerland.
In a statement, the US embassy in Dushanbe said: "We can confirm that two American cyclists were killed in the Danghara district on 29 July. Due to privacy concerns, we are unable to share further details."
The Dutch foreign ministry confirmed one of its citizens had died, telling news agency AFP that the man, 56, had been travelling with his 58-year-old partner.
Authorities gave no further details about the victims.
Tajikistan has struggled with poverty and instability since the former Soviet republic became independent in 1991. It had declared 2018 a "year of tourism", AFP said.