Malaysian minister orders removal of LGBT portraits from exhibition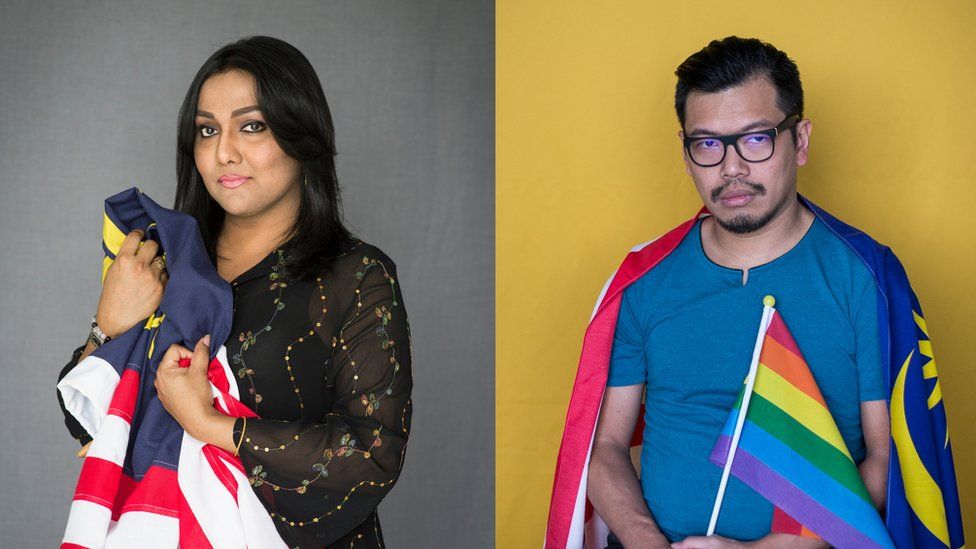 Festival organisers in Malaysia have removed two portraits of LGBT activists from a public photo exhibition after complaints from the government.
The director of the George Town Festival said he was "directed" to take the portraits out by the minister of Islamic affairs, Mujahid Yusof Rawa.
Mr Mujahid said the promotion of LGBT culture was not supported in Malaysia.
The exhibition features a series of portraits with different Malaysians posing with the country's flag.
The photos were taken last year to commemorate 60 years of Malaysian independence.
Among them were Nisha Ayub, a transgender activist who has won several awards, including the US Secretary of State's International Women of Courage Award in 2016 for her work on transgender rights.
Pang Khee Teik is the co-founder of Seksualiti Merdeka, an annual sexuality rights festival, and the editor of online forum Queer Lapis.
He was photographed clutching a rainbow pride flag and draped in the national flag.
Homosexual activity is illegal in Malaysia under both secular and religious laws.
'Malaysian pride, not gay pride'
Joe Sidek, the festival's director, told the BBC he was "directed" to take the pictures out but "I wasn't threatened".
He said the objective of the public exhibition, Stripes and Strokes, was to showcase "Malaysian pride, not gay pride".
"I don't approve of censorship but I understand why it had to be done."
He insisted he was looking at the "bigger picture" and that fighting this request could cause problems in the future.
"So I chose to lose this battle," he said, adding that he had been criticised for his decision.
Mr Mujahid had told Malaysia's The Star newspaper that Malaysian society "cannot accept LGBT being promoted because that is against the society norms".
"When you put the picture with the [pride] symbol, if that is not promotion... then tell me what is the definition of promotion?"
The activists featured in the photo series have since spoken out.
"They talk about rights as a citizen of Malaysia but they are denying people like me to express our love to our own country," said Ms Ayub in a Facebook post.
"They can burn or throw away my picture but they cannot take my love to my country. I may be transgender, but I'm just a Malaysian [who] has family, friends, that always has hope for a more inclusive Malaysia."
Mr Pang echoed Ms Ayub's words, saying on Facebook that the only activity being promoted was "loving our country in spite of the hate".