China, Taiwan and a bakery: How a coffee sparked a diplomatic row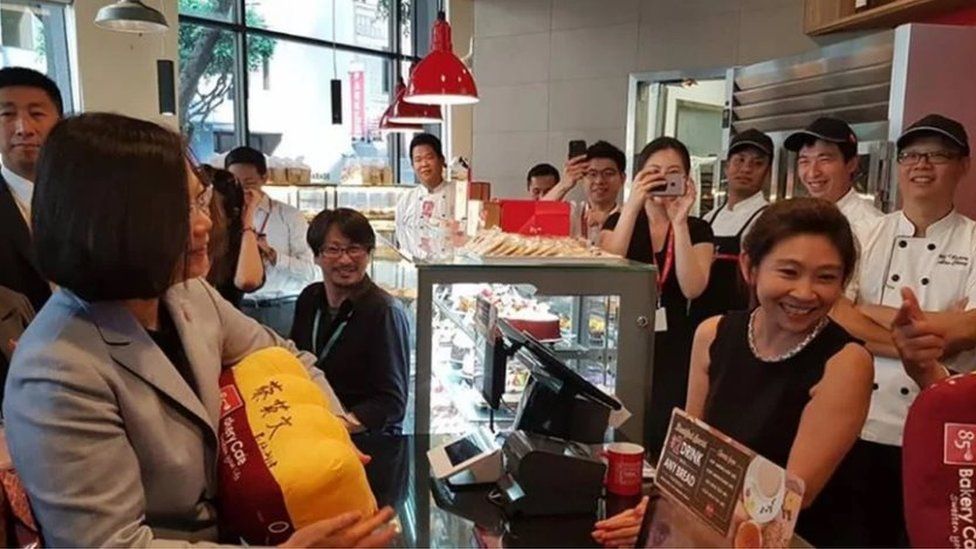 A bakery in the US has found itself at the centre of a geopolitical storm by giving a coffee to Taiwan's president.
The LA branch of Taiwanese-owned 85C Bakery Cafe gave the coffee, along with an enthusiastic welcome, to Tsai Ing-wen when she dropped in last Sunday.
But many Chinese customers - who visit the chain's branches in mainland China - were furious, calling for a boycott.
China regards Taiwan as part of its territory, and the Chinese public are often quick to jump on anything that is seen as endorsing Taiwanese independence.
Warmly welcoming Ms Tsai, the leader of a pro-independence party, was seen as unacceptable.
Yet, when the bakery chain tried some damage control, quickly putting out a statement distancing itself from pro-independence sentiments, it only sparked more anger - this time in Taiwan, where people accused the company of bowing to Chinese pressure.
Why is this such an issue?
Taiwan's status is a sensitive question.
It's a self-governed democracy and for all practical purposes has acted as an independent nation since 1950, when China's nationalist government was defeated by communist forces and fled there from the mainland.
China considers the island to be a renegade province - not a country in its own right - which will one day, by force if necessary, be fully reunited with the mainland.
China insists that other countries can only have diplomatic ties with China or Taiwan, not both.
And in recent years, Beijing has become increasingly assertive over its claims and what it says is a key question of national sovereignty.
What happened in the coffee shop and after?
Last weekend, President Tsai Ing-wen stopped over in Los Angeles on her way to visit some of Taiwan's few remaining diplomatic allies in South America.
During her stay, she paid a visit to 85C Bakery Cafe, a brand that started in Taiwan but has expanded to China and the US.
The local staff, apparently excited to host her, gave her a gift bag, and among smiles and photographs also handed her a brand mascot to sign.
Pictures of the visit were posted on Facebook by a member of her delegation, but have since been taken off his public timeline.
Although Ms Tsai has been a moderate voice on the independence issue since her election, she is viewed by the mainland as a dangerous separatist.
"85C is a 'Taiwan independence' two-faced company," said one post on social media. "We mainland Chinese should boycott this kind of garbage company."
What did the company do in response?
The company, which makes more than half of its global revenue in mainland China, was quick to put out its statement.
It reiterated its "firm support" for the 1992 Consensus - a loose agreement between Taiwan and China that there is only one China, without defining what that means.
The cafe said it was against anything that would "divide the feelings of the compatriots on the two sides", which were "the same family".
Yet the attempted damage control did not work very well.
Chinese customers cried foul when they realised the statement was only published on the company's mainland website, seeing it as an attempt to mollify the public without taking a clear anti-independence stance.
In Taiwan, it sparked accusations that the bakery was bowing to pressure from Beijing.
A tricky situation for businesses
This is far from the first time that China's vociferous defence of its territorial claims has spilled over into the business world.
Earlier this year US clothing company Gap apologised for selling T-shirts featuring a map of China that did not show Taiwan and other disputed territories claimed by China.
The BBC is not responsible for the content of external sites.
So on many airlines, where you previously would have booked a trip to "Taipei, Taiwan" you will now be booking for "Taipei, China".
The website changed its listing and apologised.
But this week, one hotel in Taiwan said it was cutting all ties with the Marriott franchise as a result, accusing it of giving in to the Chinese demands.