Imran Khan sworn in as Pakistan prime minister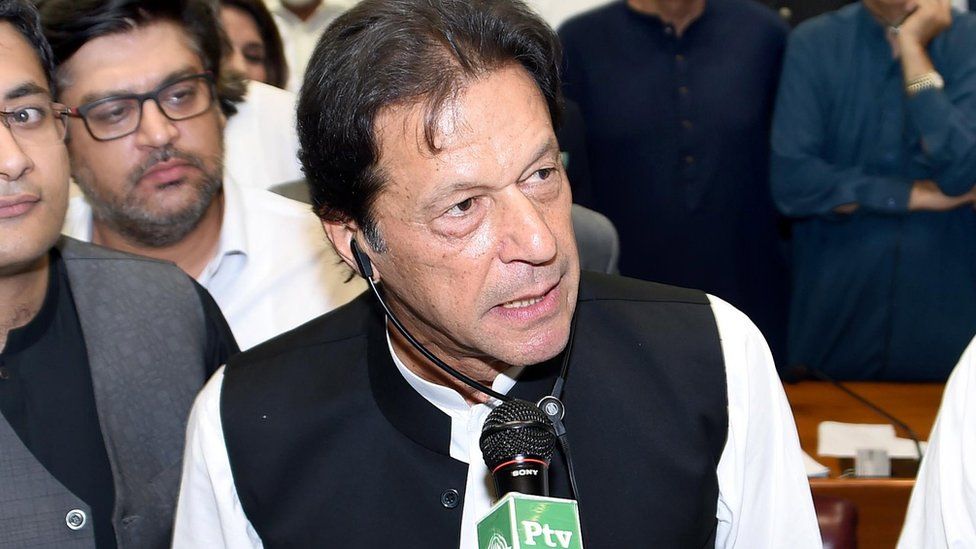 Former cricketer Imran Khan has been sworn-in as the new prime minister of Pakistan, more than two decades after he entered politics.
He was elected prime minister in a vote at the country's National Assembly on Friday.
His PTI party won the most seats in July's elections and Mr Khan has become PM with the help of small parties.
Correspondents say his priority will be to address a financial crisis, with the economy in need of a huge bailout.
On Saturday morning, Mr Khan was tearful and smiled as he stumbled over some of the words of his oath, led by the country's President Mamnoon Hussain.
Members of the 1992 cricket World Cup winning team that Mr Khan captained to victory watched the ceremony alongside senior PTI figures and military officials.
In Friday's vote, Mr Khan was backed by 176 members. His opponent, Pakistan Muslim League-Nawaz (PML-N) president Shahbaz Sharif, received 96 votes.
In a speech to parliament, 65-year-old Mr Khan reiterated his campaign promise to hold "corrupt" politicians to account, and to improve opportunities for young people.
"First of all, we will start strict accountability. I promise to my God that everyone who looted this country will be made accountable," he said.
"I did not climb on any dictator's shoulders; I reached this place after struggling for 22 years."
Opposition parties have claimed elements of last month's elections were rigged. Despite this, they agreed to take their seats in the assembly.
Before the election Mr Khan told the BBC that if he were to be elected, his initial focus would be on the economy. Pakistan's currency, the rupee, has declined significantly in the last year. Inflation is on the rise and the country's trade deficit is widening.
Exports such as textiles have taken a hit from cheaper products made by regional competitors, including China. Analysts say the new government may need to turn to the International Monetary Fund (IMF) for the country's second bailout since 2013, which could complicate efforts to boost welfare.