Pakistan bidders flock to PM Imran Khan's car auction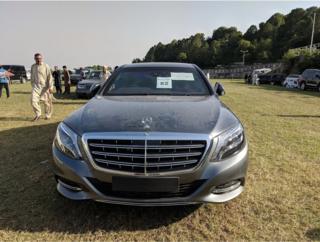 Bullet-proof jeeps and helicopters drew hundreds of bidders to a Pakistani government "austerity-drive" auction aimed at cutting vehicle costs.
But the heavily publicised sale - held on the lawns of Prime Minister House - failed to live up to its billing and even drew laughter from buyers.
Auctioneers said the government hoped to net at least $16m (£12m), but just $600,000 was made from Monday's sale.
Further sales will be held as the government targets a debt crisis.
The bidders showed keen interest in four helicopters the government is putting up for sale. But it was announced they will be auctioned later this month.
There were also many unanswered questions over eight buffaloes the government is parting with.
Earlier this month, an aide to new PM Imran Khan puzzled many when he tweeted that the buffalo had been used by former PM Nawaz Sharif for his "gastronomic requirements".
Mr Khan, who was elected in July on a platform of anti-corruption reforms, has made much of his so-called austerity drive - but critics say it has been more style than substance so far.
Last month, as he preached belt-tightening to others, the PM was mocked when it emerged he commutes to work by helicopter to beat traffic jams.
Many point out that auctions of government cars are not new - they happen all the time - but Mr Khan's PTI government highlights them because it plays well with their austerity-drive optics.
More than 100 cars - half of them billed as luxury vehicles - were up for auction on Monday. However only 62 went under the hammer.
Of those, the crown jewels were two Mercedes Maybach S-600s, purchased under former PM Nawaz Sharif in 2016. However, when an asking price of almost $1.3m was announced for each car, there was a huge roar of laughter among the almost 500 bidders present - and no takers.
In addition seven BMWs, and all 14 Mercedes Benz S-300s from 1993 went unsold.
The most expensive car that did sell was a bullet-proof 2015 Toyota Land Cruiser, which netted almost $200,000. Four bullet-proof 2005 Mercedes jeeps also found buyers.
But many of the cars were far from luxury, some purchased as far back as the mid-1980s.
Afzal, a buyer from Rawalpindi, bought two cars, one of them the cheapest sold in the auction. The 2005 Suzuki hatchback, known locally as a Mehran, cost him $4,000.
Afzal said he bought the cars for his son and didn't mind paying extra.
"After all, the money will return to our national exchequer and this is what our prime minister wants," he told BBC Urdu.
At the other end of the spectrum was a buyer from Karachi who snapped up one of the four 2005 armoured Mercedes jeeps. His bosses at a large pharmaceuticals company wanted a luxury vehicle "no matter the cost", he said.
"They just told me to go make sure you get a car. It doesn't matter if they are a bit over the market rate. They belong to the PM's fleet of vehicles."
The cash-strapped Pakistani government is facing grave economic challenges as it struggles to keep the economy afloat.
As well as selling off surplus luxury cars, its eye-catching proposals include turning state-owned buildings into universities, dispensing with VIP security protocol and cutting air conditioning in government offices.
Earlier in September, Mr Khan even appealed to members of the Pakistani diaspora to donate $1,000 each towards a fund, launched by the country's top judge, to construct a mega hydropower dam project in the north-west.