Emmy Awards 2018: Sandra Oh's mother rocks hanbok on red carpet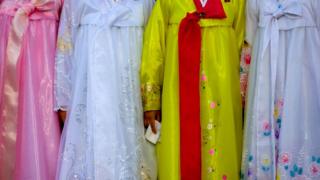 Sandra Oh may have made history for Asian women with her Emmy nomination, but it was her mother who became the star of the show by appearing in traditional Korean dress.
Young-nam Oh and husband Joon-soo Oh were guests of the star, nominated for her role in BBC America's Killing Eve.
Many were thrilled to see Mrs Oh representing Korean culture by wearing a hanbok to support her daughter.
People said it was the first time they'd seen a hanbok on the red carpet.
Korean American TV producer Albert Kim commented that it was a sign Koreans had officially "arrived" in the US.
And that wasn't the end of it.
During the interview, Mrs Oh said that she was "so proud" of her daughter, and gave her a kiss on the cheek.
That led the Grey's Anatomy actress to scream: "Oh my god, that happened on film!"
It's not common in many Asian cultures for parents to openly express affection towards their children, much less in a public setting - and the action did not go unnoticed by people like William Yu, who's been campaigning for more Asian representation in TV and film.
Sandra Oh, from Canada, became the first Asian woman to be nominated in the lead actress category for her role as Eve Polastri in BBC America's murder-mystery series, Killing Eve.
She had told the New York Times that she hoped representation at the Emmys would grow "not only... from yellow to brown, but to all our other sisters and brothers".
The hanbok - known as a choson-ot in North Korea - is the traditional dress of both Koreas and dates back more than a thousand years.
Consisting of a tight fitted bodice and long flowing skirt, it is commonly worn during special occasions in both North and South Korea.