Yusaku Maezawa: The Japanese billionaire who wants to fly to the Moon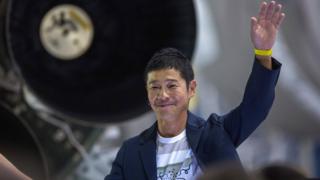 Japanese billionaire Yusaku Maezawa first entered the public eye as a drummer in a hardcore punk band.
He went on to make a fortune as an online fashion tycoon, and is best known outside Japan for spending tens of millions of dollars at record-breaking art auctions.
Mr Maezawa's ambitions now stretch beyond Earth. He hopes to be the first civilian passenger to fly to the Moon, as part of an ambitious project with Elon Musk's SpaceX.
The colourful executive wants to take a group of artists with him on the flight slated for 2023.
Mr Maezawa, 42, has not revealed how much he paid for the trip, which brings together two eccentric billionaires who are not averse to being in the global spotlight.
The Japanese entrepreneur began selling rare CDs and records in 1998 through a company he founded called Start Today.
The mail-order catalogue business moved online at the turn of the millennium and added clothes to its offering.
"I was president of my company while touring around the country with the band," he told the Japan Times earlier this year. "When it became physically impossible to handle both, I chose my company - that was around when I was 25 or 26."
He launched fashion e-retailer Zozotown in 2004, and by the time he was in his mid-30s, he was a billionaire.
Forbes magazine now lists him as the 18th richest man in Japan with a personal wealth of $2.9bn (£2.2bn).
His company recently made headlines after it launched a bodysuit that customers can use to upload their exact body measurements to the clothes shopping site.
He has splashed his cash at high-profile contemporary art auctions and paid $110.5m (£84m) last year for a large piece by Jean-Michel Basquiat - a record for the late US artist.
At the time he said he planned to put it on display eventually at a museum in Chiba, his hometown.
In 2016, he paid $57.3m for another Basquiat work - Devil's Head. He said in a statement he "felt shivers" when he first saw it.
"Regardless of its condition or sales value, I was driven by the responsibility to acknowledge great art and the need to pass on not only the artwork itself, but also the knowledge of the artist's culture and his way of life to future generations," he said.
Now, the billionaire plans to use his trip around the Moon to inspire new "masterpieces," created by the artists he chooses to accompany him.
"They will be asked to create something after they return to Earth. These masterpieces will inspire the dreamer within all of us," the future amateur astronaut told reporters.
The art project called #dearMoon was presented in a video released shortly after he and Mr Musk announced the Moon flight.
The price Mr Maezawa agreed to pay for his ticket to space has not been disclosed, but according to Mr Musk it's "a lot of money".
Still, doubt remains over whether or not Mr Maezawa and his art troupe will make it to orbit the Moon.
The launch relies on a rocket yet to be built, and Mr Musk himself said it was not "100% certain we can bring this to flight".