North Korea's Kim wants fast denuclearisation, South's leader says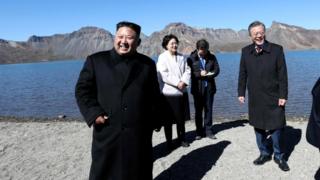 North Korea's leader wants to complete denuclearisation quickly and hold a second summit with Donald Trump soon, South Korea's president says.
President Moon Jae-in, who has ended a landmark trip to the North, said Kim Jong-un also wanted US Secretary of State Mike Pompeo to visit again.
Mr Pompeo said earlier he was ready to restart negotiations, stalled since the first Trump-Kim summit in June.
Mr Pompeo said the aim was denuclearising North Korea "by 2021".
What did Mr Moon say on his return?
Moon Jae-in arrived back in Seoul on Thursday after a high-profile, three-day visit - the first by a Southern leader to the North's capital in a decade.
Mr Moon said: "Kim Jong-un expressed his wish that he wanted to complete denuclearisation quickly and focus on economic development.
"He said he hoped Mike Pompeo would visit North Korea soon, and also a second summit with Trump would take place in the near future, in order to move the denuclearisation process along quickly."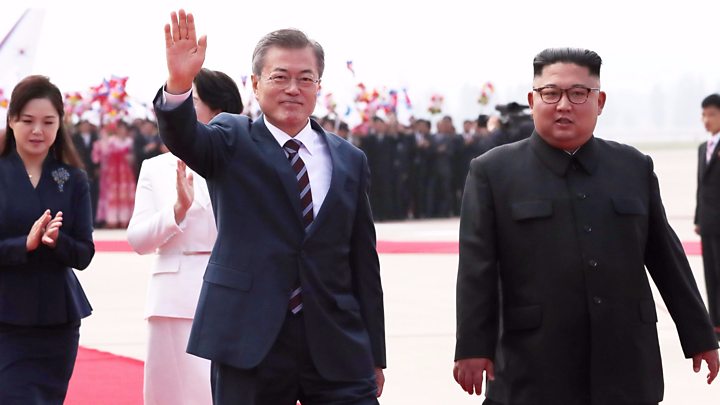 Mr Kim had made pledges during earlier meetings with Mr Moon and Mr Trump about denuclearising the Korean peninsula but there were few specifics and US-North Korea progress faltered.
Mr Kim this week, however, agreed to shut one of the country's main missile testing and launch sites, at Tongchang-ri.
This, along with what Mr Moon described as agreement "on a way to achieve denuclearisation" appears to have swayed the US.
Mr Pompeo said it was "on the basis of these important commitments" that the US was "prepared to engage immediately in negotiations".
What else did Moon's visit achieve?
Plans were laid out for a reciprocal visit by Mr Kim to Seoul - which would make him the first North Korean leader to do so.
On Wednesday evening, Mr Moon and his host attended a show of the North Korean Arirang propaganda festival.
The South Korean president gave a speech to tens of thousands of North Koreans, speaking both about reunification and the aim to denuclearise the Korean peninsula.
Why climb a mountain?
Mr Moon's trip to Mount Paektu was also highly symbolic.
South Korea's national anthem opens with a reference to the volcano while for the North it is the alleged birthplace of Mr Kim's father and grandfather, and is used in propaganda to reinforce the cult of personality around the ruling family.
Mr Moon has stated that visiting Mount Paektu was a "long unfulfilled dream".
"Many people in the South would go to Mount Paektu from the China side, but I decided not to, pledging myself that I would go stepping on our soil," he told Mr Kim at the summit.
"But time flew so fast, and I thought my wish may not come true, but it did today."