Bula! Fiji fights US bar's trademark on a national greeting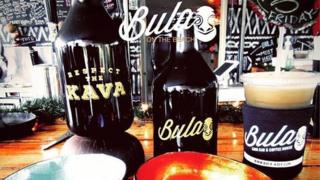 Fiji is fighting back against a company in the US that's trademarked its national greeting "Bula", saying it was "tone-deaf and wrong".
The trademark has been registered by a chain of bars and cafes in Florida which among other things serve kava, a mildly narcotic drink popular across Fiji and other Pacific island nations.
Bula is a common Fijian greeting with a much wider cultural significance.
Fiji says the move amounts to a "blatant case of heritage-highjacking".
"We would never give permission for anyone - particularly someone outside of Fiji looking to profit - to effectively claim ownership of 'bula', a word so deeply-rooted in our national identity that it has become synonymous with Fiji," Attorney-General Aiyaz Sayed-Khaiyum told Radio New Zealand.
"The idea that a single person could control the use of a word so dear to the hearts of Fijians is offensive, it is tone-deaf, and it is wrong," he said, adding his government would "fight this trademark with every power international law affords".
What's in a greeting?
Pronounced "boolah" and always said with enthusiasm, bula literally means life, but is most commonly used as something akin to "hello" - like the Hawaiian word "aloha".
Used as a greeting it is like wishing a person a good life. If you say it twice, it means health.
It's also used in the word for hospital and is even part of the Biblical term for messiah.
In order to promote tourism, the country has even coined the phrase Bula Spirit as a marketing slogan.
It's exactly what many people associate with Fiji. It is also associated with kava, a traditional drink across most Southern Pacific islands - saying "bula" is a central to the ceremony of kava-drinking.
Just a regular trademark?
Bula Nation, a bar chain in Florida, is aiming to capture some of the island vibe in the word bula for its three bars.
And last year, owner Ross Kashtan sought to trademark the name in the US, and succeeded.
The bars also specialise in kava, the mildly intoxicating brew, made from roots, which is part of traditional rituals and gatherings on the Pacific islands.
Naturally, it's also popular with tourists and likely a good sell at a laid back beach bar in Florida.
'They should have asked'
Protecting the brand name is something most businesses would do, to prevent a rival bula bar popping up next door. But the move has enraged Fijians.
"It's a matter of respect," Fijian academic Tarisi Vunidilo at Hawaii University told the BBC.
She started a petition, accusing the owner of the business of cultural appropriation for purely commercial purposes.
"Speaking from an indigenous persons' point of view, before we take something, we would always ask beforehand," she said.
"They should have at least made an effort to contact someone in Fiji, but they didn't."
So far there's been no response from the Florida bula bar and its owner, but the story has been front page news for days in Fiji.
"It's a big story on TV, in the papers and also in social media," Ms Vunidilo explains. "I was really surprised how many young people in their teens and twenties are deeply caring for this issue."
For her, it's not just the trademarking of bula which is wrong but the use of the term in the first place.
"Kava and other medicinal plants have deep cultural meaning and value to Fijians and it is disrespectful to use the word in this commercial setting."
Fiji now wants to officially contest the trademark with the US Patent and Trademark Office and plans to also take the issue to the World Intellectual Property Organisation.
It's not the first controversy over a word or phrase from another language and culture trademarked in the US.
A Hawaiian-themed restaurant in Chicago sought to secure the name Aloha Poke as a brand - even though it's simply a combination of the Hawaiian word for hello and the name of a dish.
When cease-and-desist letters arrived even at eateries in Hawaii itself, a public outcry eventually led to the Chicago restaurant issuing a public apology.