Indonesia tsunami: Death toll rises to nearly 1,350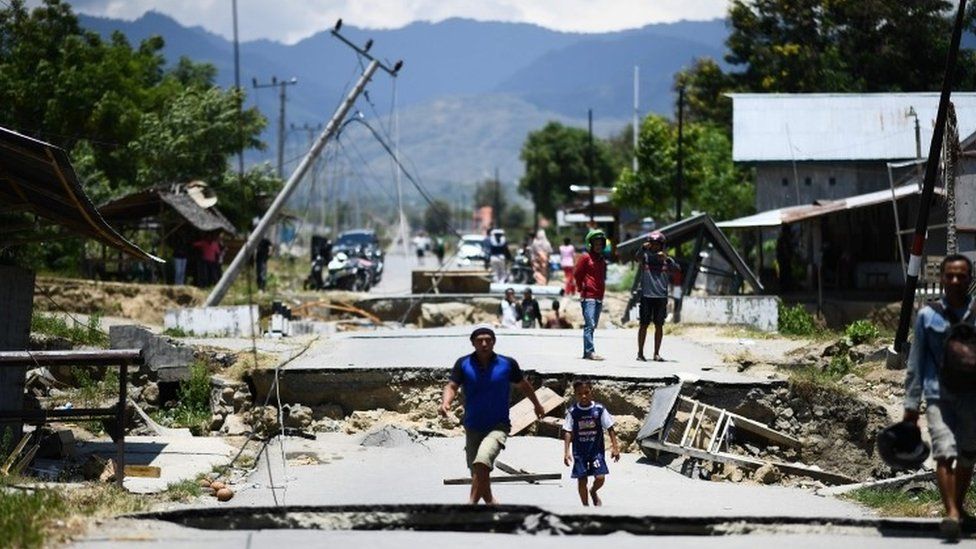 The number of people known to have died in Friday's earthquake and tsunami in Indonesia has risen to 1,347, disaster response officials say.
The death toll jumped on Tuesday from a previously confirmed figure of 844.
The 7.5-magnitude quake struck just off the central island of Sulawesi, setting off a tsunami that engulfed the coastal city of Palu.
Aid supplies are beginning to arrive in the city, where survivors have no access to running water or electricity.
As tensions and need run high, police have begun guarding shops against looters.
The BBC's Jonathan Head in Palu saw police firing warning shots and tear gas on Tuesday as people tried to take supplies from one shop.
Officers initially took a lenient approach to survivors seizing basic goods, deputy national police chief Ari Dono Sukmanto said, but some people have since been arrested for stealing computers and cash.
"After day two the food supply started to come in, it only needed to be distributed," he said. "We are now re-enforcing the law."
Humanitarian relief convoys entering the city are also being escorted by soldiers and police.
In a separate incident, a volcano began erupting on the same island, Sulawesi, on Wednesday.
Mount Soputan is about 1,000km (600 miles) away from Palu, and it was not immediately seen as a threat to the aid operation.
'No drinks since yesterday'
Rebecca Henschke, BBC News, Palu
After days of waiting for aid, Wasliha decided she had to walk to find help. Her young family trekked through the mountains for more than 10 hours from her devastated village of Lolu Sigi Biromaru to Palu airport.
"We had no clean water or food and all we have is the clothes we are wearing," she says.
Her children gulp down the water we give them, they haven't drunk anything since yesterday
She had heard the military was flying out and had joined hundreds of people at the airport hoping to get a seat.
Everyone wants to get out. Most can't and are having to endure another day without power and limited drinking water. In the town square people patiently wait in line to refill water bottles.
Those that can make it here receive two meals a day, from a community kitchen run by volunteers and gallon of water to bathe in.
Erna Wahyuni is cutting up a mountain of cabbage for soup. Her house was destroyed, but she wants to help.
"I was saved so I have to give back. It's also hard just sitting in a tent in the hot sun all day, I would rather be cooking," she laughs.
Are there still hopes of finding survivors?
Some people were rescued from the rubble in the first few days.
But many of the buildings brought down by the quake were then swamped by the tsunami, so hopes of more rescues are fading.
In the hills above Palu, volunteers are filling a vast grave with the bodies of the dead. They have been told to prepare for 1,300 victims to arrive.
The ground has become highly unstable and is constantly moving, making the search a dangerous operation and raising the risk of mudslides.
Among the people confirmed dead are 34 Indonesian students, whose bodies were found under a church buried by one mudslide. Dozens more are still missing there.
Teams have so far recovered three survivors from the ruins of the collapsed Hotel Roa Roa in Palu. An estimated 50 people were also inside when the quake hit.
Rescue team leader Agus Haryono said they were using acoustic detectors to try to locate more survivors.
He said concrete and metal cutters were helping to clear the debris but added: "We have to be very careful so we don't risk hurting any survivors."
President Joko Widodo has called for reinforcements, telling the national search-and-rescue agency to send more police officers and soldiers into affected districts.
"There are some main priorities that we must tackle and the first is to evacuate, find and save victims who've not yet been found," he said.
Why are people struggling to get help?
Across Palu, a damaged bridge, blocked roads, a partially closed airport and broken telecommunications have made it difficult to bring help into the affected area, and impossible to contact more remote regions.
With hospitals damaged, injured people have been treated in the open and at least one military field hospital has been set up.
The military has taken over the airport to fly aid in, and injured people and other evacuees out.
But for thousands of people wanting to get the first commercial flight out of Palu, the wait continues.
"I'd get a plane anywhere. I've been waiting for two days. Haven't eaten, barely had a drink," 44-year-old food vendor Wiwid told Reuters.
On Monday, 3,000 to 5,000 people who wanted to be evacuated from Palu swarmed the airport hoping to hitch a ride on a military Hercules plane. The military arranged for them to depart on ferries instead.
Bustling city with a population of approximately 350,000 people, with many banks and supermarkets
Situated in a rain shadow - where there is very little precipitation - and one of Indonesia's driest places
Near the popular beach area of Tanjung Karang
Served by a busy regional airport
The United Nations Office for the Co-ordination of Humanitarian Affairs says there are nearly 200,000 people in urgent need of assistance, about a quarter of them children.
The British government said on Tuesday it was sending a transport aircraft filled with urgent aid to Indonesia.
Defence secretary Gavin Williamson said: "Britain stands united with Indonesia as they recover from this devastating tragedy."
Why was the disaster so bad?
The 7.5-magnitude quake occurred at a depth of 10km (6.2 miles) just off the central island of Sulawesi at 18:03 (10:03 GMT) on Friday.
Scientists believe it may have triggered an underwater landslide which set off a tsunami. The waves built up height and speed as they travelled down the long narrow bay towards Palu.
Vice-President Jusuf Kalla has said the final death toll could be in the thousands, while the Red Cross estimates that more than 1.6 million people have been affected.