Hornbill gets 3D-printed prosthetic casque after cancer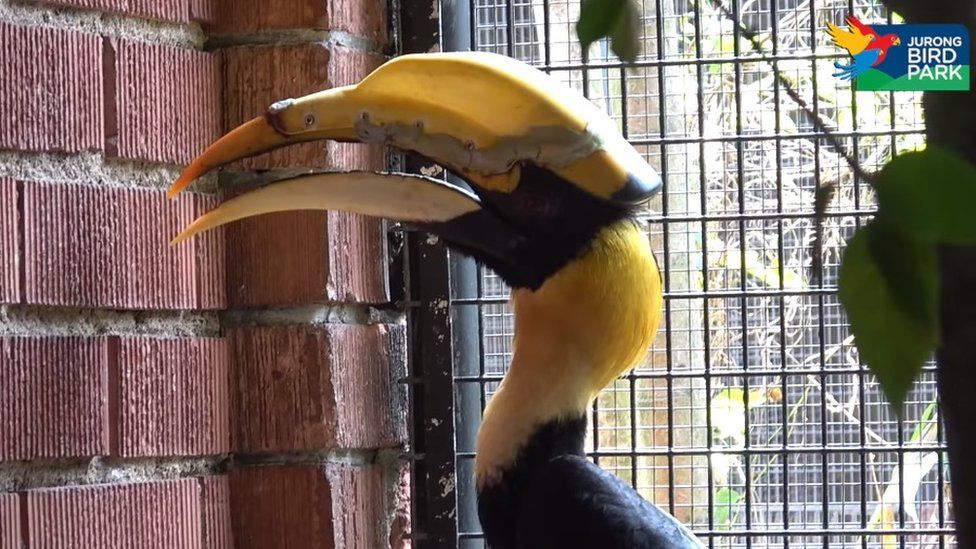 Jary, a captive hornbill in Singapore, has been given a 3D-printed prosthetic bill after surgery to remove cancerous tissue.
In July, staff at Jurong Bird Park noticed an 8cm gash on the 22-year-old male Great Pied Hornbill's casque and suspected the bird might be suffering from cancer.
Much of the tissue under Jary's casque had been destroyed by the disease.
The outlook was bleak - of two previous hornbill cancer cases at the park, one bird died after chemotherapy while the other's cancer had progressed too far for treatment.
... and a biopsy of the cancer-affected tissue was taken.
Analysis of the biopsy confirmed it was cancer and surgeons decided to remove all the cancerous growth.
A complete new prosthetic casque was printed for Jary.
Dr Hsu Li Chieh then removed Jary's casque with an oscillating saw.
Afterwards, dental resin was applied to the new casque to seal any gaps.
Jary's new casque has since turned yellow after he coloured it using pigment from his yellow tail, zoo officials say.
The bird was given the name Jary because it means "helmeted warrior" in the ancient Norse language.
Jary the hornbill was discharged from hospital in September. His prosthesis will remain until he grows a new casque.