North Korea's Kim Jong-un invites Pope Francis to Pyongyang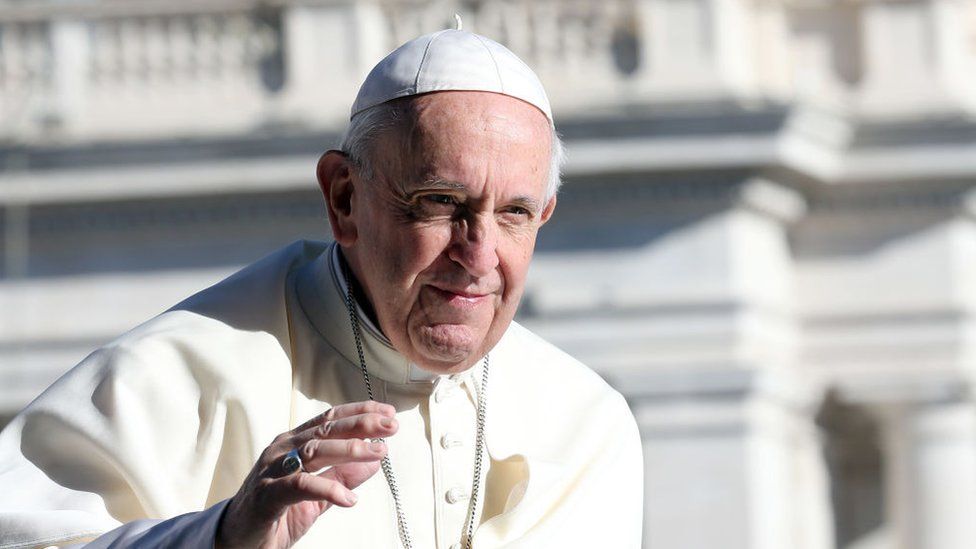 North Korean leader Kim Jong-un has invited Pope Francis to visit the country, South Korea's presidential office has announced.
The invitation to visit Pyongyang will be delivered by South Korean president Moon Jae-in who will be in the Vatican next week as part of a trip to Europe.
No pope has ever visited North Korea, though the late Pope John Paul II was once invited.
North Korea and the Vatican have no formal diplomatic relations.
"During the meeting with Pope Francis, [Mr Moon] will relay the message from chairman Kim Jong-un that he would ardently welcome the Pope if he visits [the North Korean capital] Pyongyang," Mr Moon's spokesman, Kim Eui-kyeom, told reporters.
The invitation is the latest reconciliatory gesture from North Korea.
Mr Kim held an unprecedented summit with US President Donald Trump earlier this year and three inter-Korean summits also took place.
That invitation came at a summit with the then South Korean President, Kim Dae-jung. The visit never happened.
Does the North have religious freedom?
North Korea's constitution promises a "right to faith" and state-controlled churches do exist. However, one human rights activist say this is all largely for show.
"In reality, there is no freedom of religion," said Arnold Fang, a researcher from Amnesty International.
A state-run Korean Catholic Association also exists but, similarly, has no ties with the Vatican. According to news wire AFP, KCA estimates there are 3,000 Catholics in the country, while the UN puts the number at around 800.
North Korea also takes a dim view of foreign missionaries.
Kenneth Bae, a Korean-American evangelist who ran Christian tours of North Korea, was sentenced to 15 years of hard labour in 2013 for "anti-government" crimes. He was released in 2014 on health grounds.