Papua New Guinea Maserati fleet for Apec raises questions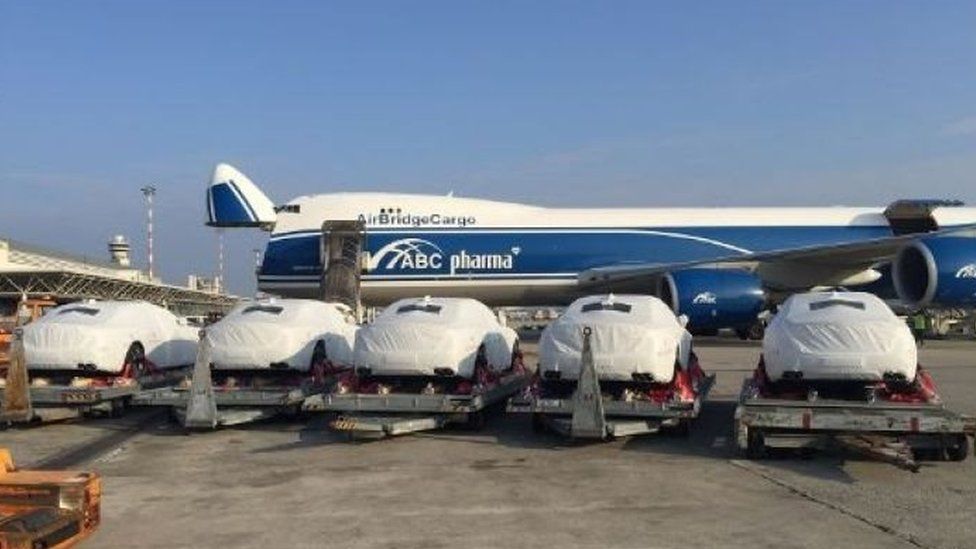 Papua New Guinea's government is under scrutiny for importing 40 luxury Maserati cars from Italy for the upcoming Asia-Pacific Economic Cooperation (Apec) summit.
The Quattroporte sedans, which cost more than $100,000 each (£75,000), will be used by foreign leaders.
Media and activists have questioned if the poor Pacific country has wasted millions.
But the government says the private sector has "committed" to paying.
Apec Minister Justin Tkatchenko said the cars, which can reach speeds of 240 km/h (149 mph), would "provide the level of carriage for leaders that is the standard for vehicles used at Apec summits".
Pictures of the cars arriving at Port Moresby airport on chartered cargo planes were shared on social media and sparked concern that taxpayer money was being wasted on the lavish purchase.
Some of the Pacific country's main roads are poorly maintained, with vehicle speeds limited to 80 km/h (50 mph). Other roads wind through mountainous terrain and often require a four-wheel-drive vehicle to navigate.
Mr Tkatchenko told The Australian newspaper that some money had been paid by the government as "a deposit to get everything here" but that the cars were "selling like hotcakes" and would not end up as a government burden.
He has not revealed how much the government has already spent on the cars nor who might be buying them and at what cost.
Prime Minister Peter O'Neill has also insisted that the government "will not be out of any funds".
Chinese President Xi Jinping and US Vice-President Mike Pence are both expected to attend the high-profile regional gathering, which takes place next month.
Keith Jackson, a blogger on PNG issues, told the BBC that the cars were part of an effort by leaders to project an image of "sophistication" ahead of the summit, including prettying up the capital, Port Moresby, with new roads and buildings.
"And this all at a time when infectious diseases like polio, TB and malaria have re-emerged in the country, school teachers are not being paid and the bulk of its eight million people are transitioning to poverty," he said.
Australia is expected to provide more than $100m to help it put on the summit, according to the Australian Broadcasting Corporation. This includes deploying soldiers as well as fighter jets to secure airspace.
Recent Apec hosts have also procured fleets of luxury vehicles to ferry around leaders. In 2015, BMW sponsored more than 200 vehicles for the summit hosted by the Philippines and the cars were later sold to the public.