Super Typhoon Yutu: S Korea begins airlift of trapped tourists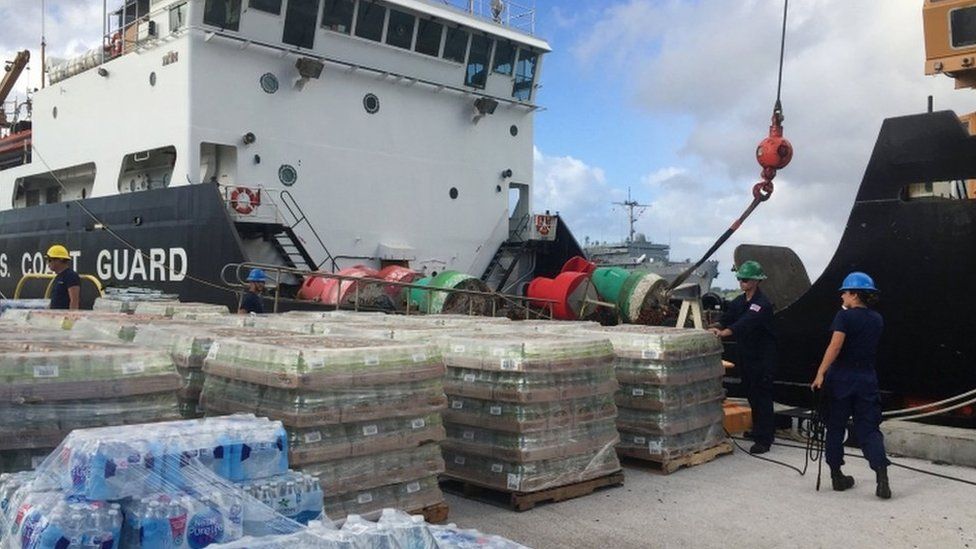 South Korea's government has started military flights to rescue nationals stranded on typhoon-hit Saipan, the main island of the Northern Marianas.
The US commonwealth was devastated by Super Typhoon Yutu on Wednesday and Saipan's airport has been closed since.
At least 1,800 South Korean tourists are reported to be trapped on the island, without power and with basic supplies reportedly running low.
A military plane is flying them, 160 at a time, to nearby Guam for connections.
"We're planning to transport our nationals twice today, but things can change depending on the situation," an air-force official was quoted by the Yonhap news agency as saying on Saturday.
A foreign ministry official told the news agency that children, the elderly and pregnant women would get first priority for transportation.
On Saturday evening an official confirmed the first batch of tourists had been successfully airlifted out.
Saipan's international airport has sustained damage from the storm and remains closed to commercial carriers, but humanitarian and military access began on Friday.
The Xinhua news agency reported on Friday that about 1,500 tourists from China are also believed trapped on Saipan.
The islands took a direct hit from the super typhoon on Wednesday. It had wind speeds of up to 180mph (290km/h).
A 44-year-old woman died in a building collapse in Saipan during the storm, but no other fatalities have been reported.
US President Donald Trump approved a request for a "major disaster declaration" in the area on Friday, and Health Secretary Alex Azar declared a public health emergency there to help free up aid.
Local officials say electricity is down in Saipan, which has about 50,000 residents, as well as on Tinian, which houses about another 3,000.
"Many homes have been destroyed, our physical infrastructure has been compromised, we have no power or water," Tinian mayor Joey San Nicolas said on Thursday.
There have also been reports of looting in some areas.
A resident in Saipan, Jonathan Perez, told the AFP news agency that basic supplies were running low.
"Right now, water, clothing, personal hygiene and easy to cook food items like canned goods and instant noodles are needed," Mr Perez said.
The US Coast Guard reopened ports in Saipan, Tinian and Rota on Saturday.
The agency said vessels usually based in Guam were on their way to the islands with dozens pallets of relief supplies.