Sri Lanka crisis: One dead after minister's bodyguard fires at crowd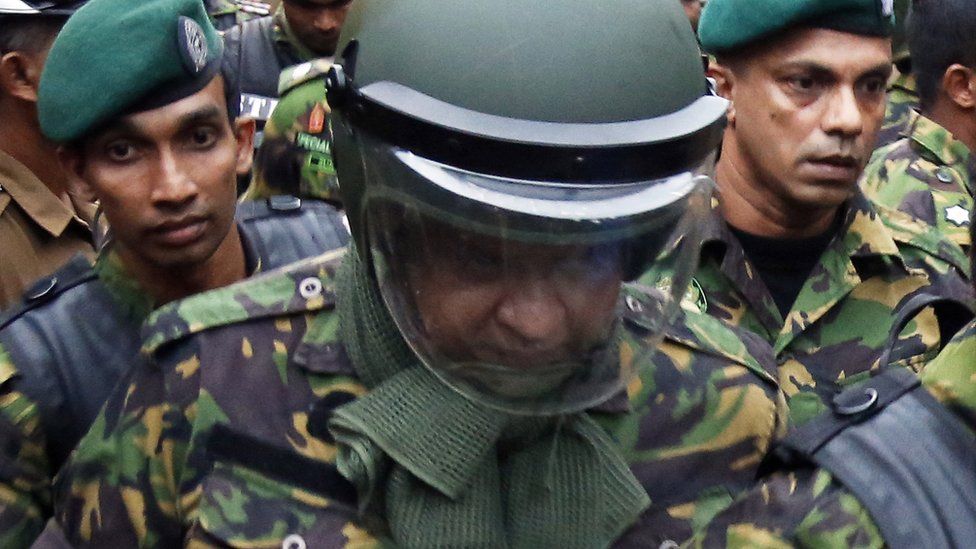 One person has been killed in Sri Lanka after the bodyguard of a sacked minister fired at a crowd as fears grow about an unfolding political crisis.
President Maithripala Sirisena last week sacked the cabinet, suspended parliament and appointed the man he ousted from the presidency, Mahinda Rajapaksa, as the new prime minister.
Opponents say this is unconstitutional but he denies this.
He said differences with the former prime minister made this inevitable.
But the former PM, Ranil Wickremesinghe, insists he is still in post and has refused to leave the official residence. He wants the opportunity to prove in parliament that he still commands a majority.
How did the shooting happen?
It took place as Arjuna Ranatunga, who was oil minister in the sacked cabinet, tried to enter his office at the Ceylon Petroleum Corporation.
Protesters were trying to block his entry.
A 34-year-old man died shortly after being admitted to hospital, health officials said. Two others were injured in the shooting.
Mr Ranatunga, a 54-year-old former national cricket team captain, was rushed from the scene by police commandos in a helmet and body armour.
His bodyguard has been arrested and an investigation is under way, police say.
What's behind President Sirisena's actions?
Speaking on national TV, Maithripala Sirisena said there had been big differences over policy with Mr Wickremesinghe for more than three years.
He linked Mr Wickremesinghe to a controversial central bank bond sale, which is alleged to have led to the loss of 11bn Sri Lankan rupees ($65m; £50m).
The president also alleged that a cabinet minister was involved in a plot to kill him and that police had obstructed an investigation.
All this meant the "only alternative" was to appoint Mr Rajapaksa as prime minister, Mr Sirisena said.
For his part, Mr Rajapaksa hailed a "new democratic beginning and the rejection of the politics of hate".
A Sri Lankan 'House of Cards'
By Ethirajan Anbarasan, BBC South Asia regional editor
Mr Sirisena and Mr Wickremesinghe joined hands to defeat Mr Rajapaksa in the 2015 presidential election. But they have since fallen out over issues from the economy to relations with India.
Local media have criticised Mr Sirisena's decision to suspend parliament for nearly three weeks; it is being seen as an attempt to give Mr Rajapaksa time to get the support of the required number of MPs.
The political fallout has resulted in clashes and there are concerns that if the uncertainty continues it could lead to more violence.
Sri Lanka's economy has been faltering due to the falling value of the rupee and the increase in oil prices. It owes billions of dollars to China. People want political stability rather than bitter infighting.
What other signs of tension are there?
Sri Lankan parliament Speaker Karu Jayasuriya has urged Mr Sirisena to reconsider his decision to suspend parliament, saying it will have serious and undesirable consequences.
Rival groups supporting Mr Rajapaksa and Mr Wickremesinghe have been gathering at different locations in Colombo.
Mr Rajapaksa's supporters are reported to have forcibly taken over Sri Lankan state media. Mr Jayasuriya said that this would have serious international implications.
Trade unions linked to Mr Rajapaksa's party have also been blocking access to ministers who are from Mr Wickremesinghe's party, Reuters reported.
Meanwhile hundreds of Wickremesinghe supporters have gathered around the official residence of the PM, Temple Trees.
What has led to the falling out?
Mr Wickremesinghe helped the president triumph in the 2015 poll, but the pair reportedly clashed in cabinet recently over government plans to lease a port to India.
The prime minister and his United National Party (UNP) came to power promising accountability for alleged atrocities committed in Sri Lanka's civil war and during Mr Rajapaksa's period as president.
President Sirisena had been an ally of, and a minister under, Mr Rajapaksa before turning against him.
Mr Rajapaksa ended the civil war in 2009, but faced criticism for the means by which he achieved victory - many thousands of Tamil civilians are thought to have been killed by government forces in the final months of the fighting.
Over the 26-year conflict, between 80,000 and 100,000 people are estimated to have died, with both sides alleged to have perpetrated war crimes.
What is the wider international context?
India has long-standing close ties with Sri Lanka.
India's regional rival, China, has a big financial interest in Sri Lanka, especially in infrastructure projects.
China is seen as strongly backing Mr Rajapaksa and congratulated him on his apparent appointment as prime minister.
Supporters of Mr Wickremesinghe, who pushed for continued close ties to India, accuse China of being behind his attempted replacement - an allegation denied by Chinese officials.
India, the European Union and the US have called on the president to stick to the constitution.