Lion Air crash: Indian pilot and husband of mystery pair among victims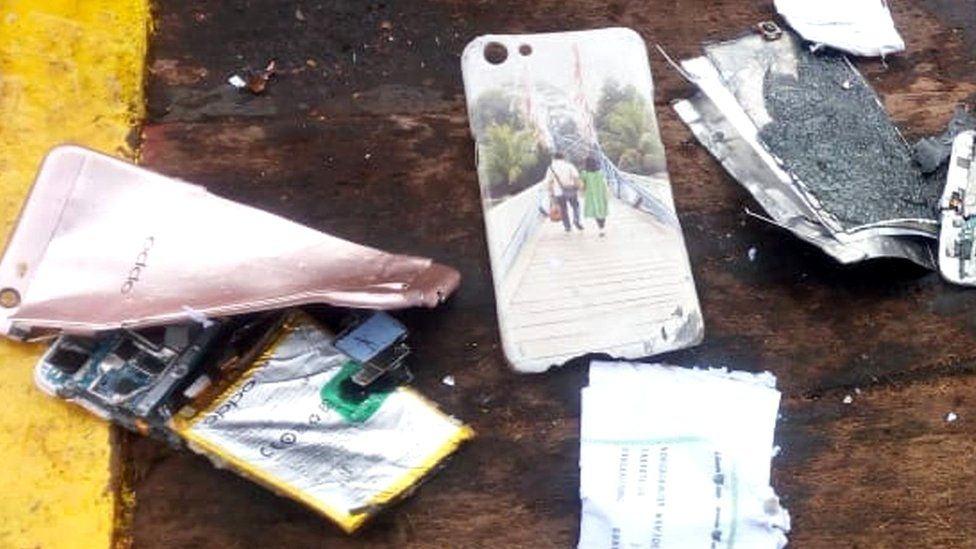 Authorities say there is little chance of any survivors of the Lion Air flight that crashed in Indonesia. This is what we know about the 189 people on board.
According to Lion Air, the aircraft was carrying 178 adult passengers, one child and two babies. In addition to the two pilots, there were also six cabin crew.
Searches are continuing for victims as well as for the aircraft itself, in the hope of finding clues as to why the plane crashed into the ocean only 13 minutes after taking off.
Among the photographs of debris collected from the ocean was one smartphone case with a distinctive image of a couple walking over a bridge.
Users on Indonesian social media scrambled to find the story behind the pair and soon identified the image on Instagram.
The picture had been posted on the account of Ine Yunita Savitri but she herself was not on the plane but her husband, Wahjoe Noegrohantoro, was and it's his phone case that was found.
His nephew, Antonius Hartono, told the BBC he had spotted the case only after being told by his mother that his uncle had been on board the flight.
"Every time I see that picture on social media, I feel really sad," he said. "I can't imagine how his wife and children would feel.
"It is very shocking. One week ago I met him and our big families on vacation. We didn't realise that a week after, he was gone."
Lion Air named Captain Bhavye Suneja as pilot of the plane. The Indian national's death was confirmed by the Indian Embassy in Jakarta.
Our deepest condolences on the tragic loss of lives in the Lion Air Plane crash, off the coast of Jakarta today. Most unfortunate that Indian Pilot Bhavye Suneja who was flying JT610 also lost his life...Embassy is in touch with Crisis Center and coordinating for all assistance. pic.twitter.com/56lbxGSoJe

— India in Indonesia (@IndianEmbJkt) October 29, 2018
The co-pilot was named as Harvino. Capt Suneja had more than 6,000 flight hours under his belt and the co-pilot had more than 5,000, making the pair an experienced team.
Six cabin crew were named as Shintia Melina, Citra Noivita Anggelia, Alviani Hidayatul Solikha, Damayanti Simarmata, Mery Yulianda and Deny Maula.
One of the crew was a technician and three were flight attendants under training, the airline said.
The death of the 31-year old captain, originally from Delhi, has left family and friends devastated.
"The whole family is mourning and nobody is in a condition to speak," his uncle told the BBC in Delhi, adding they were all planning to travel to Indonesia.
According to his LinkedIn profile, Capt Suneja joined Lion Air in 2011. He'd been living in Indonesia ever since, although his wedding was still held in his home city 18 months ago.
Friends of the family told the BBC they had been preparing for Diwali and that Capt Suneja had been planning to join for the celebrations.
"His family members were waiting," neighbour Anil Gupta said. "We can't believe that he is no more."
At Jakarta's Halim Perdanakusuma airport, distraught family members waited for information about their loved ones.
Murtado Kurniawan's wife was on the plane. They are newly married and she was making the journey for work.
"I can't live without her, I love her," he said through tears. "The last thing I said to her, was 'be careful'. I always worry about her when she goes away. When I saw on TV that the plane had crashed, my whole body went weak."
Another family member waiting for news was Dede. She told the BBC she had dropped her niece Fiona Ayu and her family off at the airport on Monday morning, to make the short journey to their home town.
Fiona had been trying to get pregnant via IVF and her family had thought it would be good for her to get some rest out of Jakarta.
"The airline kept telling us to wait and wait for news, but the images on social media and television are very bad," Dede said. "But I am still holding out hope that she will come back, I am praying and praying for that.
Mourners and finance ministry employees
Michelle Vergina Bongkal, 21, was on her way to Pangkal Pina to attend the funeral of her grandmother. Travelling with her was her brother, Mathew, 13, and father Adonia, 52.
Her sister, Vina, told the BBC the family had already been grieving the death of the grandmother and had now been left reeling from the plane crash.
She said the family had often travelled this route but normally preferred to use other airlines. This time, because of the need to find an early flight to attend the funeral, they chose the budget carrier.
Twenty employees of the finance ministry were also on board and Finance Minister Sri Mulyani consoled victims' family members and staff at the ministry's office in Jakarta.
Those on board had worked at the ministry's offices in Pangkal Pinang and were returning to work after spending the weekend in Jakarta, spokesperson Nufransa Wira Sakti told the BBC.
He added that they had routinely taken this early-morning Lion Air flight because it was the one that would get them to the office in time.
Fellow employee Sony Setiawan had meant to be on the flight but he missed check-in after getting stuck in traffic.
"I know my friends were on that flight," he told AFP news agency. He only found out about his colleagues' fate, and his fortuitous escape, after he arrived in Pangkal Pinang at 09:40.
"My family was in shock and my mother cried but I told them I was safe, so I just have to be grateful."