Christchurch shootings: Father and son in first victims' funerals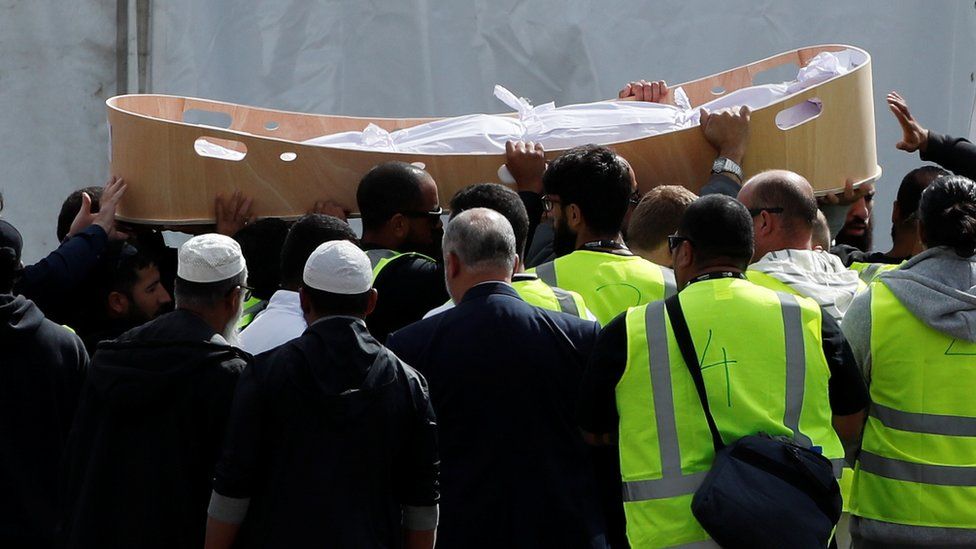 A father and son from Syria have been buried in New Zealand, the first funerals for the 50 victims of last week's mosque shootings.
Khaled Mustafa, 44, and Hamza, 16, came as refugees to New Zealand last year.
Six burials took place on Wednesday. Police hope they will soon be able to release the bodies of all those killed in the two Christchurch mosques.
Australian Brenton Tarrant, 28, a self-described white supremacist, has been charged with murder.
Islamic tradition calls for bodies to be buried as soon as possible, but the funerals have been delayed by the scale of the identification process.
Hundreds of mourners gathered at a cemetery near the Linwood Islamic Centre in Christchurch on Wednesday, one of two places of worship targeted in last Friday's attacks.
The two victims buried were killed at the Al-Noor mosque.
Khaled leaves behind a wife and a younger teenage son, who was injured in the attack. Zaid Mustafa attended the funeral in a wheelchair.
"I shouldn't be standing in front of you. I should be lying beside you," Zaid Mustafa said, according to bystanders cited by AFP.
Victims of the Christchurch shootings
Fifty people lost their lives in the shootings at two mosques in the city.
All bodies to be released
Police on Wednesday named six of the victims of the shootings and said all post-mortem examinations were complete.
Yet some families expressed frustration with the delayed identification process.
Police Commissioner Mike Bush said authorities had to prove the cause of death so that the courts could treat it as murder.
"You cannot convict for murder without that cause of death," he said. "So this is a very comprehensive process that must be completed to the highest standard."
Prime Minister Jacinda Ardern said there would be two minutes of silence on Friday, which is the Muslim day of prayer and will mark one week since the shooting.
The Islamic call to prayer will also be broadcast on national TV and radio on Friday.
The rites vary between regions, but one common feature is that the deceased must not be cremated - and must be buried as soon as possible after death, usually within 24 hours.
However, community leaders say that if a person has not died from natural causes, a delay is acceptable.
Other rites performed as soon as possible after death - often within hours - include washing the body, and wrapping it in cloth. Men's bodies are washed by men, and women's by women.
"We treat the body as if it is still alive," Rehanna Ali, of the Federation of Islamic Associations of New Zealand, told a press conference. "We cleanse it as we would before we were about to pray. Because we believe that the soul in this body is about to undertake a journey to God, and this is a form of worship."
The body is shrouded in a simple white, unsewn cloth to symbolise that the person is leaving behind all material goods.
Muslim funerals do not usually involve a service or eulogy. Before the burial, formal prayers are said for the forgiveness of the dead.
Coffins are not used, and pallbearers rarely feature. Once at the cemetery, the body is shouldered by members of the Muslim community, and laid by the graveside. Family members will lower the deceased into the ground, with his or her head facing towards Mecca.
On Wednesday, Ms Ardern visited Cashmere High School, which lost pupils Sayyad Milne and Hamza Mustafa, and former student Tariq Omar, in the attack.
She asked students to help her rid New Zealand of racism and reiterated her call "never to mention the perpetrator's name... never remember him for what he did".
New Zealanders hand in guns
Following an appeal by Ms Ardern, some New Zealanders have begun handing in weapons.
John Hart, a farmer in the North Island district of Masterton, posted on Twitter that he had given his semi-automatic rifle to police to be destroyed.
Until today I was one of the New Zealanders who owned a semi-automatic rifle. On the farm they are a useful tool in some circumstances, but my convenience doesn't outweigh the risk of misuse.

We don't need these in our country.

We have make sure it's #NeverAgain pic.twitter.com/crLCQrOuLc

— John Hart (@farmgeek) March 18, 2019
His post drew a lot of support but also a wave of abusive messages to his Facebook page from many gun owners, particularly in the US, where the pro-gun lobby is particularly strong.
Ms Ardern on Monday announced the nation's gun laws would be reformed in the wake of the attack. Details of the plans are expected within days.
The country's hunting lobby said it backed reforms, calling for a ban on military-style semi-automatic weapons and high-capacity magazines.
Victims of the Christchurch shootings
Fifty people lost their lives in the shootings at two mosques in the city.