Hamza Bin Laden: Is al-Qaeda still a threat?
By Zulfiqar Ali
BBC Reality Check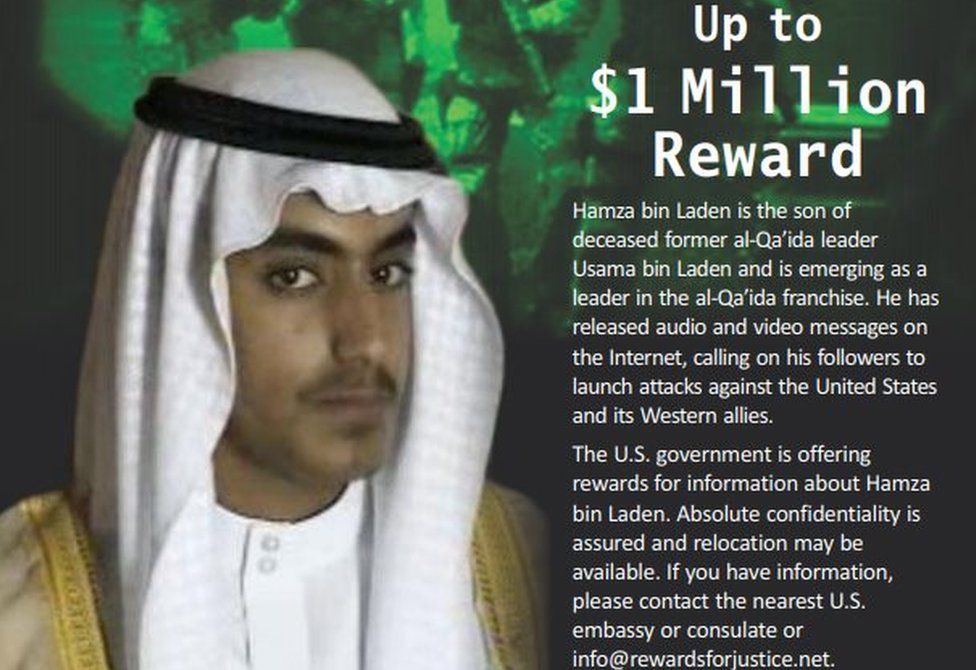 Hamza Bin Laden, the son of al-Qaeda founder Osama Bin Laden, has reportedly been killed in an air strike, eight years after his father died in an attack in Pakistan by US forces.
How important was Hamza Bin Laden? And is al-Qaeda still influential?
How important was Hamza Bin Laden?
He was widely seen as the emerging leader of al-Qaeda after his father was killed by US special forces in Pakistan in 2011.
In 2015, al-Qaeda's current leader, Ayman al-Zawahiri, introduced the 30-year-old Hamza as a "lion from the den" of the Bin Laden network.
He had been promoted as a rising star on pro-al-Qaeda websites, someone it was hoped would reinvigorate the group.
What's happened to al-Qaeda?
With the death of Osama Bin Laden in 2011 and the emergence of the Islamic State group (IS), al-Qaeda's power and influence weakened considerably.
But in recent years, al-Qaeda has been pursuing a strategy of quietly rebuilding and forging alliances with regional groups.
The UN, in a report published earlier this year on the threat of global terrorism, said that al-Qaeda "appears to be growing more ambitious…it remains resilient and active in many regions and retains the ambition to project itself more internationally."
In February this year the UK's intelligence chief, Alex Young, also warned of a resurgence of al-Qaeda.
Where is al-Qaeda active?
Part of its new strategy has been to build local alliances, and foster a network of affiliates or "branches" in Africa, the Middle East and South Asia.
Al-Qaeda in the Islamic Maghreb (AQIM) formed in 2006 when an Algeria-based group affiliated with al-Qaeda, and then moved into the Sahel and West Africa.
Al-Qaeda in the Arabian Peninsula (AQAP) was formed in 2009 in a merger of two offshoots of the international Islamic militant network in Yemen and Saudi Arabia.
Al-Qaeda in the Indian Subcontinent (AQIS) operates in Afghanistan, Pakistan, India, Myanmar and Bangladesh, and was established in September 2014.
Jama'at Nusrat al-Islam wal-Muslimin (JNIM) is an al-Qaeda-affiliated organisation formed by the merger of several militant groups in Mali and West Africa.
Al-Shabab is active in Somalia and East Africa and swore allegiance to al-Qaeda in 2012.
Hayat Tahrir al-Sham (HTS) is a merger of several Syrian militant groups which controls Idlib province in northern Syria. It insists it is independent, but the UN and the US both regard it as associated with al-Qaeda.
Al-Qaeda in Egypt consists of al-Qaeda-aligned groups operating in Egypt's Sinai Peninsula, and embedded in local communities.
Unlike IS, al-Qaeda has been careful not to alienate local populations.
In 2013 al-Qaeda issued "General Guidelines for Jihad" which talked about a more restrained and community-based approach.
"Al-Qaeda has made an art of homing in on local concerns, like corruption or marginalisation, and slotting them into its agenda of global jihad", according to Elisabeth Kendall, senior fellow at Pembroke College, Oxford.
"In so doing, it acts a a local 'saviour' and positions itself as 'the good guys of jihad' as opposed to the brutal thugs of IS," she says.
Al-Qaeda has been steadily increasing its attacks through its various branches and affiliates.
But its affiliates have been very active in other parts of the world, carrying out deadly attacks.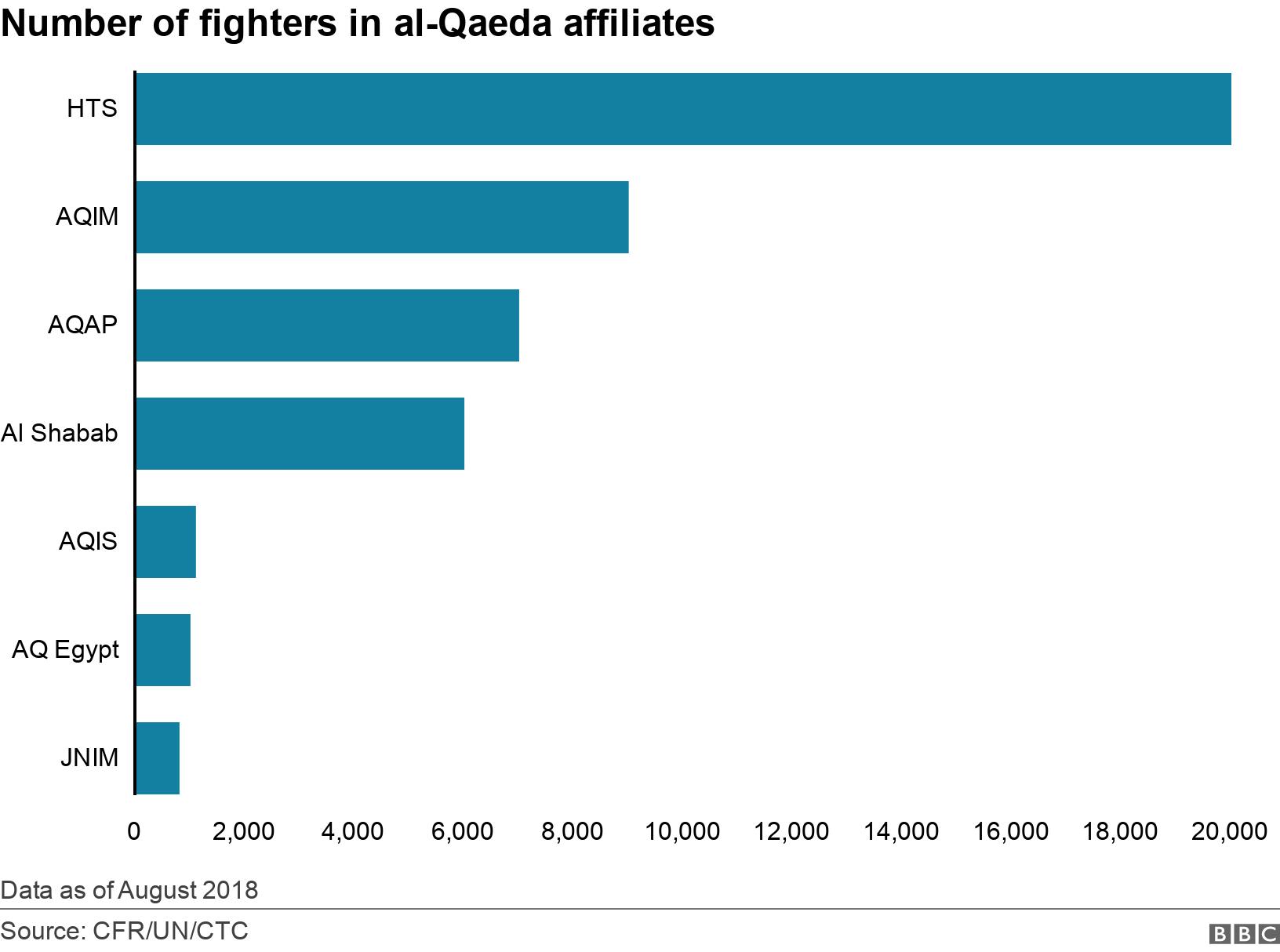 Al-Shabab has continued to attack Kenyan towns along the border with Somalia, including a 2015 raid on Kenya's Garissa University that killed 148.
And in January 2019, the group attacked a hotel complex in the Kenyan capital Nairobi, killing at least 15 people.