India Cyclone Fani evacuation efforts hailed a success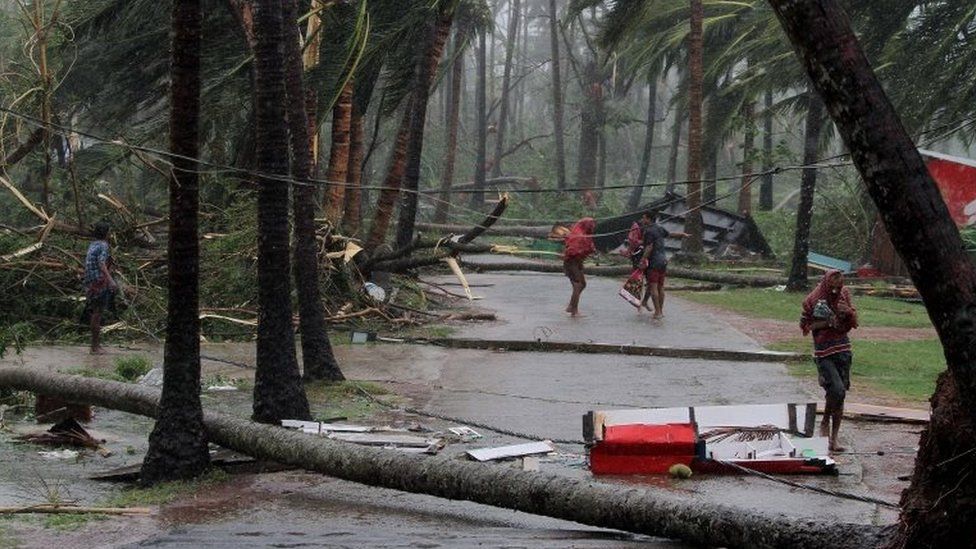 India has hailed as a success its evacuation of more than a million people to safety to avoid Cyclone Fani.
Sixteen people were killed in the north-eastern Indian state of Orissa, or Odisha, by the storm which hit there on Friday.
Officials said the loss of life could have been far worse.
Yet storm surges and powerful winds have still ravaged the state, flooding at least 36 villages and destroying 2,000 homes.
Puri, the seaside temple town where Fani made landfall, suffered colossal damage, as winds reaching 200km/h (125mph) blew off roofs, damaged power lines and uprooted trees.
Arun Bothra, inspector-general of Orissa police, praised efforts to keep people safe.
"There has been massive, massive damage here…but fortunately, thanks to the people who forecasted this and told us the minute-to-minute movement of the cyclone, the government has been able to evacuate 1.2 million people," Mr Bothra told the BBC.
"The evacuation part was very successful and the casualties are very, very low," he said.
The next phase of returning people to their homes had already started and would continue for the next four to five days, before the huge task of restoring damaged buildings starts, Mr Bothra added.
Orissa-based relief official Bishnupada Sethi told Reuters that the "destruction is unimaginable" in Puri, which lay directly in the path of Fani.
Aerial pictures showed extensive flooding in the area, home to the 858-year-old Jagannath temple.
Fani struck Orissa in the early hours of Friday before moving north-east towards Bangladesh, where it weakened on Saturday.
Gusts up to 70km/h (43mph) were registered in Bangladesh. It was categorised as a deep depression.
Dozens of villages on the Bangladesh coast have been submerged, officials say, and more than a million people have been moved to safety.
At least four people have been killed and 63 injured, Bangladesh's junior disaster minister Enamur Rahman told reporters.
The storm destroyed several houses in the Noakhali district, where a two-year-old child was killed and about 30 people were injured, a local official told Reuters.
Fani is one of the strongest cyclones to hit India in the last 20 years, according to the state-run India Meteorological Department.
So far, however, its impact has not been as significant as previous cyclones.
A cyclone that struck Orissa in 1999 is among the most powerful and destructive ever recorded in the North Indian Ocean.
At least 10,000 people were killed after the cyclone swept through the eastern state for around 30 hours.
It peaked with winds of 260km/h (161mph) when it made landfall on 29 October, affecting an estimated 10 million people in coastal areas.
Early cyclone warning systems have since improved, giving authorities more time to evacuate people.
In the Bay of Bengal, cyclone season typically runs from April to December.