Afghanistan conflict: Taliban attack northern police headquarters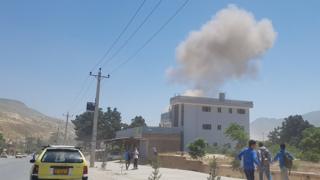 At least 13 people have been killed and dozens wounded after Taliban fighters attacked a police headquarters in northern Afghanistan on Sunday.
A suicide bomber driving a Humvee loaded with explosives started the assault in the city of Pul-e-Khumri.
Clashes between gunmen and security services followed.
The attack came days after the Taliban rejected a ceasefire offered by the country's government and backed by the US.
Interior ministry spokesman Nasrat Rahimi said eight Taliban fighters were shot dead.
More than 50 people were wounded, 20 of them civilians. Children were among the dead, an Afghan health official said.
The Taliban, which wants strict Islamic rule in the country, said it was behind the bloodshed.
The group carries out frequent attacks on Afghan forces and now controls more territory than at any point since it was toppled from power in 2001.
Officials say armed Taliban fighters entered the police headquarters after an explosion at its gate before firing on Afghan security services inside.
The group is known to use armoured vehicles laden with explosives to target military and police facilities.
The militants have been holding peace talks with a US envoy in Qatar since October with the goal of ending the long-running war in Afghanistan.
Last week, the Taliban turned down a ceasefire agreement proposed by President Ashraf Ghani and Zalmay Khalilzad, the US special envoy for peace in the country.