Asia Bibi: Christian leaves Pakistan after blasphemy acquittal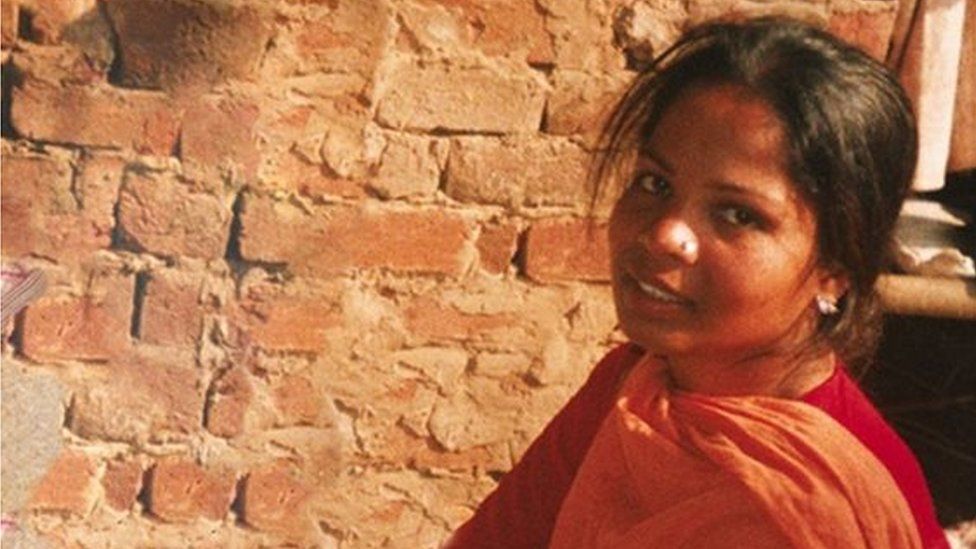 Asia Bibi, a Pakistani Christian woman who spent years on death row after being convicted of blasphemy, has left the country, officials have confirmed.
Her conviction was overturned last year by the Supreme Court.
She was originally convicted in 2010 after being accused of insulting the Prophet Muhammad in a row with her neighbours.
Asia Bibi has always maintained her innocence in a highly sensitive case that has polarised Pakistan.
Pakistani government officials did not reveal her destination, or say when she left.
But her lawyer Saif ul Malook told the BBC she had already arrived in Canada, where two of her daughters are understood to have been granted asylum.
Asia Noreen - commonly known as Asia Bibi - was kept at a secret location while arrangements were made for her to leave the country.
In a statement, US Secretary of State Mike Pompeo said he wishes Asia Bibi "all the best" now she has been "safely reunited with her family".
The Supreme Court's quashing of her sentence last October led to violent protests by religious hardliners who support strong blasphemy laws, while more liberal sections of society urged her release.
Last year, Pakistani authorities arrested prominent Islamic cleric Khadim Hussain Rizvi, whose Tehreek-e-Labbaik (TLP) party led mass protests over Asia Bibi's acquittal.
Dozens of his supporters and TLP leaders were also detained.
Officials say they were arrested to maintain public order after the cleric urged his supporters to "jam the whole country" if he was arrested.
Islamist groups have regularly called for Asia Bibi to be executed and activists say she would not have been safe had she stayed in Pakistan.
The trial stems from an argument Asia Bibi had with a group of women in June 2009.
They were harvesting fruit when a row broke out about a bucket of water. The women said that because she had used a cup, they could no longer touch it, as her faith had made it unclean.
Prosecutors alleged that in the row which followed, the women said Asia Bibi should convert to Islam and that she made offensive comments about the Prophet Muhammad in response.
She was later beaten up at her home, during which her accusers say she confessed to blasphemy. She was arrested after a police investigation.
Acquitting her, the Supreme Court said that the case was based on unreliable evidence and her confession was delivered in front of a crowd "threatening to kill her".
How embarrassing has this been for Pakistan?
Analysis by Ilyas Khan, BBC News, Islamabad
The Pakistani government's muted, though willing, admission of Asia Bibi's departure indicates the closure of a case that brought the country much embarrassment. There is also a sense that justice may finally have been done in an area where religious fanaticism has long overruled due process.
Asia Bibi is one among hundreds of Pakistani citizens who have been charged with blasphemy over the past few decades.
But her case stood out when a prominent politician and governor of the country's largest province, Salman Taseer, was murdered in 2011. He had publicly expressed sympathy for her and vowed to reform the blasphemy law.
This propelled her to the centre of a raging controversy.
It was international attention which ultimately forced the Pakistani authorities to work behind the scenes to neutralise the forces that were expected to kick up a fuss if she were freed.
Canada, whose Prime Minister Justin Trudeau has reportedly offered her asylum, told the BBC it has no comment on her case or whereabouts.
In November 2018, Mr Trudeau said talks were under way with Pakistan over Asia Bibi, saying Canada is a "welcoming country".
Mr Trudeau confirmed the negotiations after Asia Bibi's husband, Ashiq Masih, pleaded for asylum from the UK, US or Canada.
He said Pakistan was "very dangerous" for him and his family after Pakistani authorities struck a deal with TLP to end protests over his wife's acquittal.
In a recent interview with the BBC, Pakistan's Prime Minister Imran Khan said she was "safe" and would be departing the country "very soon".
Why has her case been so divisive?
Islam is Pakistan's national religion and underpins its legal system. Public support for the strict blasphemy laws is strong.
Hardline politicians have often backed severe punishments, partly as a way of shoring up their support base.
But critics say the laws have often been used to exact revenge after personal disputes, and that convictions are based on thin evidence.
The vast majority of those convicted are Muslims or members of the Ahmadi community who identify themselves as Muslims but are regarded as heretical by orthodox Islam.
Since the 1990s scores of Christians have also been convicted. They make up just 1.6% of the population.
The Christian community has been targeted by numerous attacks in recent years, leaving many feeling vulnerable to a climate of intolerance.
Since 1990, at least 65 people have reportedly been killed in Pakistan over claims of blasphemy.
Asia Bibi, who was born in 1971 and has four children, was the first woman to be sentenced to death under the blasphemy laws.