Why are UK and China relations getting worse?
By Christopher Giles
BBC News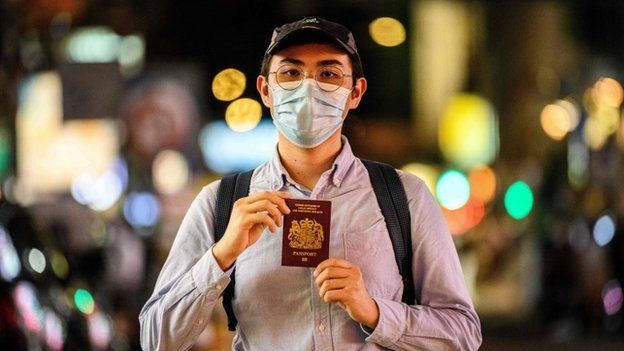 The UK's relationship with China, the world's second largest economy and most populous country, has worsened.
The countries have fallen out over issues including Hong Kong, tech giant Huawei and alleged human rights abuses against China's Uighur ethnic group.
Why the UK and China disagree on Hong Kong
Hong Kong is a former British colony, which was handed back to China in 1997.
But before Hong Kong was returned, the UK and China made an agreement to introduce "one country, two systems".
It was agreed that Hong Kong's capitalist system, which was different to China's communist model, would continue.
It also meant Hong Kong has its own legal system and borders, and rights such as freedom of assembly, free speech and freedom of the press are protected.
It is one of the few places in Chinese territory where people have been able to mark the 1989 Tiananmen Square crackdown, where the military opened fire on unarmed protesters in Beijing.
The agreement signed in 1984 was set to last until 2047.
But the UK says this agreement - known as the Joint Declaration - is under threat because the territory has passed a new law that gives China sweeping new controls over the people of Hong Kong.
The UK also has an interest in Hong Kong because 300,000 UK nationals live there.
Why has the UK suspended its extradition treaty with Hong Kong?
Extradition is when one country formally gives up a person to another country where they are accused of crimes.
At present, the UK could ask the authorities in Hong Kong to hand over someone suspected of a crime in the UK - and vice-versa.
Critics say it could see pro-democracy protesters in the region being served with life sentences.
Can the people of Hong Kong come to the UK?
The UK Prime Minister Boris Johnson has also pledged to offer three million Hong Kong residents the chance to settle in the UK.
They could ultimately apply for citizenship.
That number includes 350,000 people who have British National Overseas passports, and 2.6 million more who are eligible to apply.
What has China's reaction been?
The Chinese government has accused the UK of "brutal meddling" in its domestic affairs.
A spokesman for the Chinese embassy in London said the passports offer meant the UK was breaking its own promises, as well as international laws.
"The UK government keeps making irresponsible remarks on Hong Kong affairs," ambassador Liu Xiaoming said.
"We want to be your friend. We want to be your partner. But if you want to make China a hostile country, you will have to bear the consequences."
Has the UK banned Chinese tech firm Huawei?
Huawei is a Chinese tech company and is the second largest provider of smartphones in the world.
Many countries were considering using Huawei to build new 5G networks to provide faster internet. But there are concerns that the Chinese government could use the company to spy on foreign countries.
The UK government has ordered the removal of all Huawei kit from 5G networks by 2027.
It will also ban mobile providers from buying new Huawei 5G equipment by the end of 2020.
Other countries, including the US, Australia and New Zealand, have taken similar measures.
Huawei maintains it has never been asked to spy.
UK criticises Uighur abuses
Uighur people are a mostly Muslim ethnic group in China's Xinjiang province in the far-west of the country.
There are widespread reports that the group are being imprisoned and persecuted for their way of life.
The UK government has become more vocal about the issue, with Foreign Secretary Dominic Raab accusing China of "gross and egregious" abuses.
Liu Xiaoming, China's UK ambassador, dismissed talk of concentration camps as "fake".
The Chinese government says its actions in Xinjiang are necessary to prevent separatist violence by those wanting to break away from China.