Johnny Kitagawa: Japanese boy band mogul dies at 87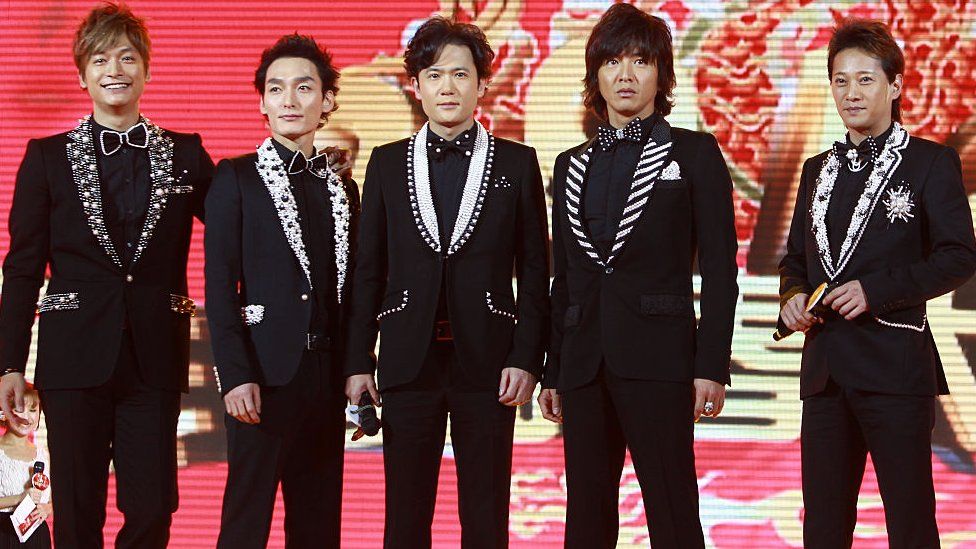 Johnny Kitagawa, one of the most influential figures in Japan's entertainment industry, has died at the age of 87.
For more than 50 years the agency he founded, Johnny & Associates, turned multiple bands into household names, including SMAP, Arashi and KAT-TUN.
Many of the artists he propelled to fame also became stars of TV shows.
His last days were spent with his trainees, who were said to be like "his children".
"His final curtain came down with him wrapped in the love of his beloved children," said a statement from his office.
Kitagawa was responsible for 232 number one singles between 1974 and 2010. He was recognised three times by Guinness World Records - for the most number one singles, the most number one artists and the most concerts produced by an individual.
But he rarely made public appearances or interviews, nor would allow himself to be photographed.
Born in Los Angeles in 1931, Kitagawa returned to Japan with his family as a small child and broke into show business in 1962 with a groundbreaking four-man pop group called Johnny's.
According to Japan's Kyodo news agency, Kitagawa challenged cultural norms, creating boy bands at a time when dancing was not seen as acceptable for men.
His artists also went on to star in television programmes and his talent agency eventually grew to become the most powerful in Japan, with a virtual monopoly on the lucrative boy-band market.
However, his career was not without controversy.
In 1999, Japanese magazine the Shukan Bunshun published a series of articles accusing him of sexually abusing several boys at his agency.
Kitagawa denied all the charges and launched a libel suit against the magazine which he won, though that judgement was later partially overturned. He was never charged with any crime.
A kingpin of Japan's entertainment industry
#ThankyouMrJohnny started trending on Twitter in Japan almost immediately after Kitagawa's death was reported, with fans of his boy bands expressing gratitude. Since he founded his agency in 1962, he became the kingpin of Japan's entertainment industry.
While Johnny Kitagawa himself always remained behind the scene and never allowed a camera to film him, J-Pop groups that he created touched the Japanese public across generations, and he was known for his ability to spot talent.
But he was also a controversial figure. There were repeated allegations of power harassment and sexual abuse though none were ever proven.
And because his agency dominated the industry, Johnny Kitagawa was almost untouchable as no-one in Japan's mainstream media dared to upset his powerful agency.