North Korea fires more missiles as South begins joint drill with US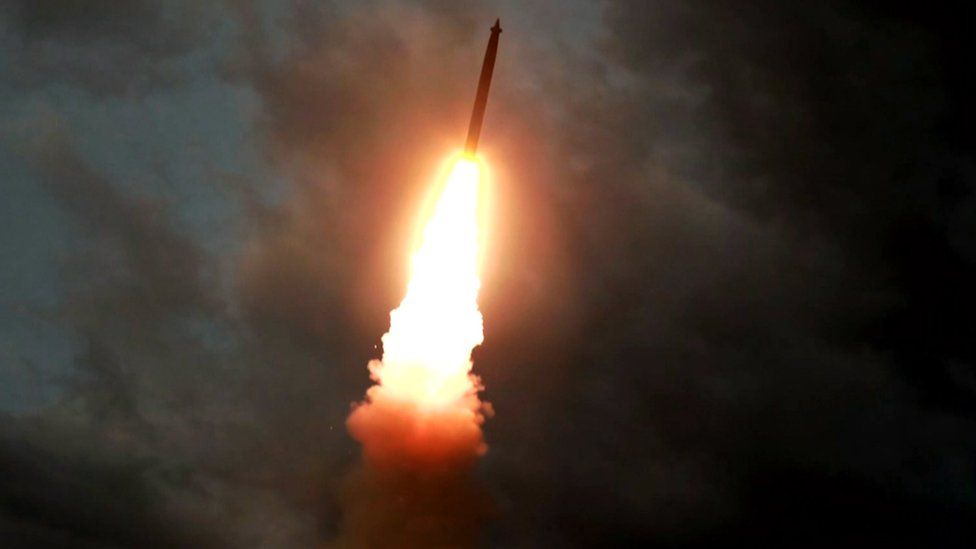 North Korea has fired two unidentified missiles, its fourth such launch in less than two weeks, South Korea's military has said.
They were fired from South Hwanghae province across the peninsula into the sea to the east, a statement said.
The North again expressed anger at US-South Korean military drills that began on Monday.
It says they violate agreements reached with US President Donald Trump and South Korea's President Moon Jae-in.
While the main drills will start on 11 August, low-key preparation has begun.
The US said it was monitoring the situation and consulting with South Korea and Japan.
Late on Monday, Washington introduced travel restrictions on people who have visited North Korea. Anyone who would normally be eligible for the US visa waiver programme will now have to apply for a US visa if they have visited North Korea in the last eight years.
The new policy affects tourists from most European countries as well as Australia, New Zealand, and several Asian countries like Japan, Taiwan and Singapore.
Why is North Korea testing missiles?
A statement released by North Korea's Foreign Ministry on Tuesday does not mention the missile launches but it claims that the military drills in the South essentially force it to develop and test new weapons.
Given the drills in the South, "we are compelled to develop, test and deploy the powerful physical means essential for national defence," the statement said.
It also described the exercise as "an undisguised denial and a flagrant violation" of the recent talks between the US and North Korea (DPRK).
"We have already warned several times that the joint military exercises would block progress in the DPRK-US relations and the inter-Korean relations and bring us into reconsideration of our earlier major steps," the statement warns.
'Pyongyang is piling on the pressure'
By Laura Bicker, BBC News, Seoul
In the last two weeks they've shown they can fire short-range missiles in daylight, at night and now from a number of bases including, unusually, one on the west coast.
It takes a degree of confidence to launch a missile knowing it will fly over your own country. Pyongyang must have faith in this particular weapon.
We usually have to guess North Korea's motives, but this time it issued a statement, presumably timed to coincide with launch.
It included a stern warning to both Washington and Seoul. Once again Pyongyang declared it would consider a "new path" if the provocations, which include the joint military exercises, continued.
That could mean North Korean leader Kim Jong-un will eventually be willing to break his promise to Donald Trump and test long range missiles or nuclear weapons.
We're not at that stage yet. North Korea said it was still willing to talk - presumably once the joint military exercises are over.
Pyongyang's message is out there for Washington to hear. But with Donald Trump insisting he's in no rush to do a deal and continuing to brush off these short range tests, it's not clear if his administration is listening.
What do we know about the missile tests?
According to South Korea's military, the North's launches on Tuesday appear to be short-range ballistic missiles, flying 450km (280 miles) at an altitude of 37km.
Over the past two weeks, the North test-fired what South Korean officials said appeared to have been a new type of short-range missile.
Last Friday, two missiles landed in the Sea of Japan, also known as the East Sea, according to South Korea's Joint Chiefs of Staff (JCS).
On Wednesday, the North launched two missiles that flew 250km and reached a height of 30km before landing in the Sea of Japan, according to South Korea.
On 25 July, the North had fired two other missiles, one of which travelled about 690km.
That was the first launch since President Trump and North Korean leader Kim Jong-un held an impromptu meeting in June at the demilitarised zone (DMZ), an area that divides the two Koreas, where they agreed to restart denuclearisation talks.
What are the military drills about?
Since the end of the Korean conflict, when Washington fought alongside Seoul against the North, the US has had troops stationed in South Korea.
Each year, the two countries conduct military drills, often also called war games.
Seoul and Washington say the drills are defensive but Pyongyang sees them as preparation for war.
Following the 2018 summit in Singapore where North Korean leader Kim Jong-un and US President Donald Trump agreed a vague denuclearisation statement, the US president also said he'd cancel the war games.
That year, Mr Kim said North Korea would stop nuclear testing and would no longer launch intercontinental ballistic missiles.
Nuclear activity appears to be continuing, however, and satellite images of North Korea's main nuclear site last month showed movement, suggesting the country could be reprocessing radioactive material into bomb fuel.
A second summit between the two leaders in Hanoi in 2019 ended without agreement.
Since then, denuclearisation talks have stalled although both sides say they still want to pursue diplomacy.