South Korea and Japan's feud explained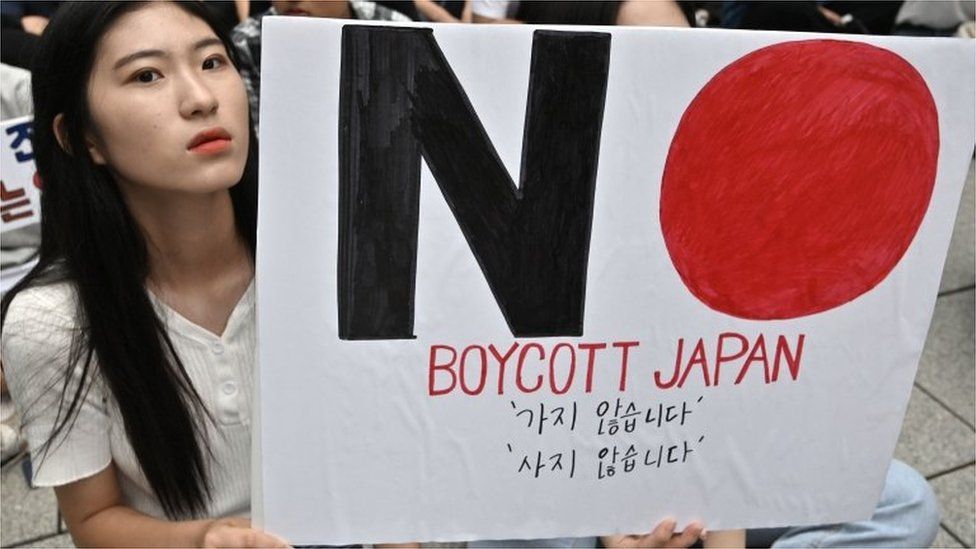 The ongoing trade and political dispute between South Korea and Japan is tied to lingering wounds dating back more than 100 years.
However, as the countries are two of the world's largest economies and giants in technology, the tit-for-tat dispute also has global implications.
At the centre is South Korea's demands that Japan pay what they consider to be appropriate reparations for atrocities committed during the Japanese occupation of the Korean peninsula from 1910 to 1945, particularly the use of forced labour.
But Japan considers the issue to be settled.
So what exactly is going on?
What's the background to the fight?
The two nations share a complicated history. They have fought on and off since at least the 7th Century, and Japan has repeatedly tried to invade the peninsula since then.
In 1910, it annexed Korea, turning the territory into a colony.
By the late 1930s, Japan was starting to mobilise for war. It began to force people to work in the factories and mines, or enlist as soldiers.
It also sent tens of thousands of women from across Asia - many of them Korean - into military brothels to service Japanese soldiers. The victims became known as "comfort women".
Japan's rule of Korea ended in 1945 when it was defeated in the war. But it took another 20 years before South Korean President Park Chung-hee agreed to normalise relations with the country in exchange for hundreds of millions of dollars in loans and grants.
Tokyo argues that the 1965 treaty that restored diplomatic ties and provided more than $800m (£620m) in Japanese financial help, has settled the matter.
However, it remains far from resolved.
Why isn't the issue settled?
"Japan and South Korea are now entering a new era," Japanese Prime Minister Shinzo Abe told reporters at the time. "We should not drag this problem into the next generation."
But activists say they were not consulted, and rejected the deal. President Moon Jae-in, elected in 2017, suggested it be altered.
The historic dispute rumbles on, with neither country looking likely to bend.
Mitsubishi Heavy, one of the firms involved, has reportedly refused to comply with the court order, while two other companies have had their assets seized in South Korea.
The issue has angered many in South Korea, with people boycotting Japanese goods. One man smashed up his Japanese-made car.
The Japanese government, meanwhile, stuck to its line, saying all reparation issues had been settled by the 1965 treaty.
Seoul then announced it had decided to end the country's intelligence-sharing pact because of the decision. It said it caused a "grave" change in security co-operation between the two countries.
Japan's Foreign Minister Taro Kono called it a "complete misjudgement of the current regional security environment" and said Tokyo would "strongly protest" to Seoul about it. There has been no response yet from Washington, which had pushed for the pact three years ago, in part to help track North Korea's missile activity.
Stock markets slipped amid fears that the trade spat could badly affect electronics around the world.