Sadako Ogata: First female UN refugee chief dies at 92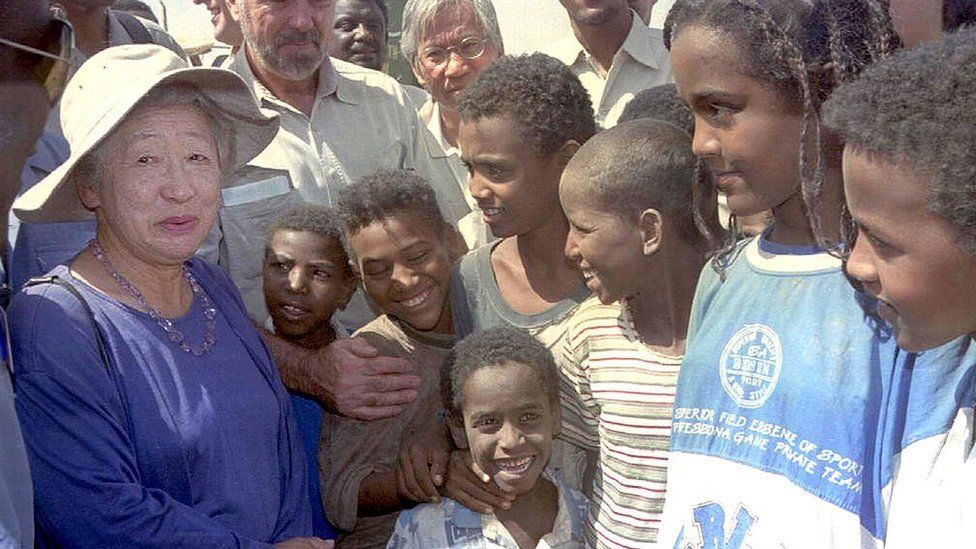 A Japanese academic and diplomat who became the first female to be appointed UN High Commissioner for Refugees has died aged 92.
Sadako Ogata worked on some of the largest crises of the decade during her time in service from 1991 to 2000.
Challenges included helping Kurdish refugees fleeing from Iraq after the 1991 Gulf War, and the Balkans War.
Sadako Ogata was born in Tokyo in 1927, the daughter of a Japanese diplomat father.
She was also the great-granddaughter of former Japanese prime minister Tsuyoshi Inukai, who was assassinated in 1932 in an attempted coup d'état.
She went on to live and study abroad, obtaining a master's degree from Georgetown University in Washington DC and a doctorate from the University of California at Berkeley.
Before joining the UN, she was an academic - serving as dean of the faculty of foreign studies at Sophia University in Tokyo in 1989, where she had been a professor since 1980.
In 1991, she became the first woman, the first Japanese person, and the first academic to be installed as the United Nations High Commissioner for Refugees (UNHCR).
Within weeks of starting her job, she was faced with one of the biggest crises of the 1990s - millions of Kurdish refugees had fled to Iran after the Gulf War.
"I didn't really know what I was getting into, because what happened after I took up the office was very different from what everyone assumed would happen in the world," she told the Japan Times in 2005.
She would go on to oversee large-scale operations in areas including Bosnia and Herzegovina, Kosovo and the Great Lakes region of Africa.
In her book "The Turbulent Decade - Confronting the Refugee Crises of the 1990s", she described her stint at the UN as a period of constant humanitarian crises.
"[The] UNHCR worked like fire brigades through all the continents of the world," she wrote.
"My concern was always centred on providing security to the refugees and giving them opportunities to lead happier lives," she said.
"She would be best described as a caring person," Johan Cels, a UNHCR staffer told the Japan Times. "She would first listen to the refugees' voices and then negotiate with local political leaders."
In 1995, she was awarded the Philadelphia Liberty Medal, an annual award given by the National Constitution Centre of the US, which recognises "leadership in the pursuit of freedom".
Back in Japan, she also criticised her country's low acceptance of refugees.
"Japan has to set up a situation to welcome people... those who are in need, in serious need... I think we should be open to bringing them in," she said in a Reuters interview in 2015.
"[To say] Japan does not have resources, that's nonsense."
"I often think of all the refugees whom I met in camps, in villages, in reception centres, in shantytowns.
"I believe that what has kept me going is the conviction that our collective efforts can turn the terror and pain of exile into the safety and unity of family and friends."