China holds military drill as US envoy visits Taiwan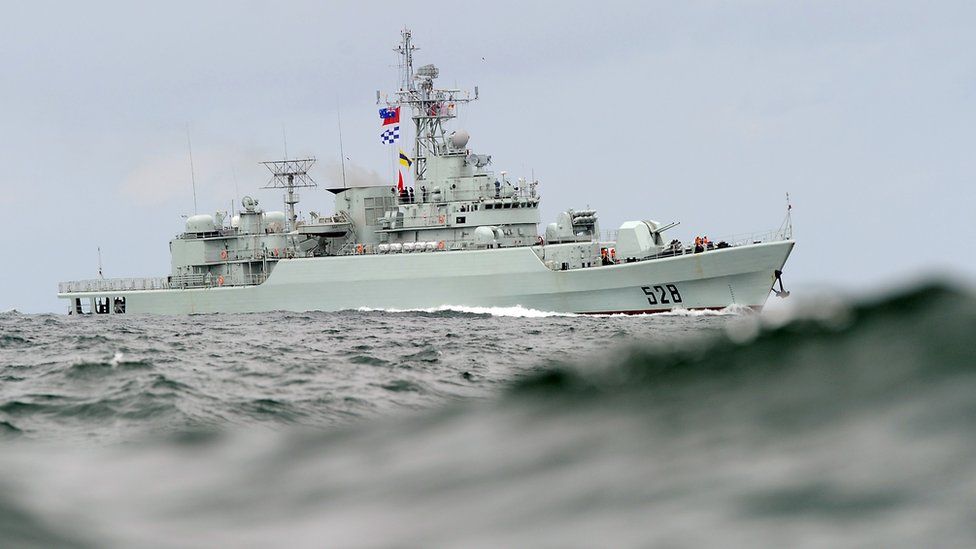 China says it is conducting military exercises near the Taiwan Strait to "protect its sovereignty" as a top US official visits Taiwan.
The live-fire drills take place as relations between Beijing and Washington sour and the US shores up its support of Taiwan.
China regards self-ruled Taiwan as a breakaway province.
Keith Krach is the highest-level official from the US State Department to visit the island in decades.
On Friday, China's defence ministry spokesman Ren Guoqiang accused the US and Taiwan of "stepping up collusion, frequently causing disturbances", although he did not make any reference to the visit.
He told reporters that "using Taiwan to control China" or trying to "rely on foreigners to build oneself up" was wishful thinking.
"Those who play with fire will get burnt," he said.
Mr Ren did not give details about the military exercise, which involves the People's Liberation Army's eastern theatre command, but described them as "legitimate and necessary for the mainland to protect its sovereignty and integrity".
They follow two days of large-scale Chinese drills off Taiwan's southwestern coast last week.
The BBC's Cindy Sui in Taipei says that by carrying out the military exercises, China is warning Washington against disrupting the balance that the United States had maintained under previous US administrations.
Taiwan's ruling party and its supporters appear to see the US under Trump and the tensions with Beijing as an opportunity to push for closer ties with Washington and work towards their goal of getting formal international recognition of Taiwan as an independent country, says our correspondent.
Washington said Mr Krach, who is the US undersecretary of economic affairs, was visiting Taiwan to attend a memorial service for late president Lee Teng-hui on Saturday.
Later on Friday he is scheduled to meet Taiwanese President Tsai Ing-wen for a dinner at her official residence.
The visit comes at a time US-China relations have plummeted to their lowest point in years.
The two nations have been locked in a bitter trade war since 2018, clashed over the coronavirus pandemic and traded accusations of espionage with mounting arrests of suspected Chinese spies in the US in recent months.
The deteriorating relations have also affected other areas, including a US clampdown on China's tech firms and the revoking of Chinese student visas.
Beijing views Taiwan as its own territory, vowing to one day seize it, while many Taiwanese want a separate nation.
Like most countries the US has no formal diplomatic relationship with Taiwan, and in the past was described as pursuing a policy of "strategic ambiguity" to balance China's emergence as a regional power with admiration for Taiwan's economic success and democratisation.
As the leading arms supplier to Taiwan, the US is by far Taiwan's most important friend and only ally. But under President Donald Trump's administration the US has further bolstered its backing for the island.
When a US cabinet member met President Tsai in Taipei last month China responded angrily.
"We urge the US… not to send any wrong signals to 'Taiwan independence' elements to avoid severe damage to China-US relations," a foreign ministry spokesman said at the time.