Kyrgyzstan election: PM quits as protesters take control in Kyrgyzstan
The prime minister of Kyrgyzstan has quit after post-election protests plunged the ex-Soviet republic into political chaos.
Kubatbek Boronov has reportedly been replaced by Sadyr Japarov, who was freed from prison by protesters. The election results have been annulled.
Opposition groups had earlier seized control of parliament, saying Sunday's ballot had been rigged.
Russia and China have voiced concern about the crisis.
A large crowd gathered in the capital Bishkek on Wednesday to demand the impeachment of the country's President, Sooronbai Jeenbekov, who hinted earlier that he was ready to stand down.
The pro-Russian president told the BBC on Tuesday he was "ready to give the responsibility to strong leaders" but refused to say whom he had in mind.
The election results had seen parties allied to Mr Jeenbekov win the largest share of the votes, amid accusations of mass vote-buying.
Two presidents have been overthrown in Kyrgyzstan in the past 15 years.
What exactly did the president say?
"The main goal of the protesters was not to annul the election results but to remove me from power," President Jeenbekov told BBC Kyrgyz in an exclusive phone interview from a secret hideaway.
He urged all parties to return to the "legitimate field" and work together to avoid the political upheavals of the past.
"To solve this issue, I am ready to give the responsibility to strong leaders, no matter which group they belong to. I am even ready to help them," he added.
In an earlier video address earlier the president had accused "certain political forces" of using the results of the election as a reason to "violate public order". "They did not obey law-enforcers, beat up medical workers and damaged buildings," he said.
Observers say it appears that Mr Jeenbekov, who was elected in 2017, has lost all influence but it is not clear who will replace him.
Opposition leaders have set up a Co-ordination Council but there are reports they are divided, arguing over who gets influential government positions.
The Kremlin has said it is "certainly concerned" about the situation while China's foreign ministry said it was "highly concerned".
On Wednesday, Russian President Vladimir Putin said he hoped for a peaceful solution to the crisis and that "normal democratic processes will resume... as soon as possible".
Kyrgyzstan heavily relies on Russia economically and the Russians have a military base there, while China is an important trading partner.
Kyrgyzstan - five quick facts
Second smallest of five Central Asian states, bordered by Kazakhstan, Uzbekistan, Tajikistan and China
Was known as the Kirghiz Soviet Socialist Republic while part of the Soviet Union
Acquired its present name - officially the Kyrgyz Republic - after declaring independence in 1991
Previous uprisings swept President Askar Akayev from power in 2005, and in 2010 ejected President Kurmanbek Bakiyev
Has a reputation for holding semi-free and fair elections in comparison with its neighbours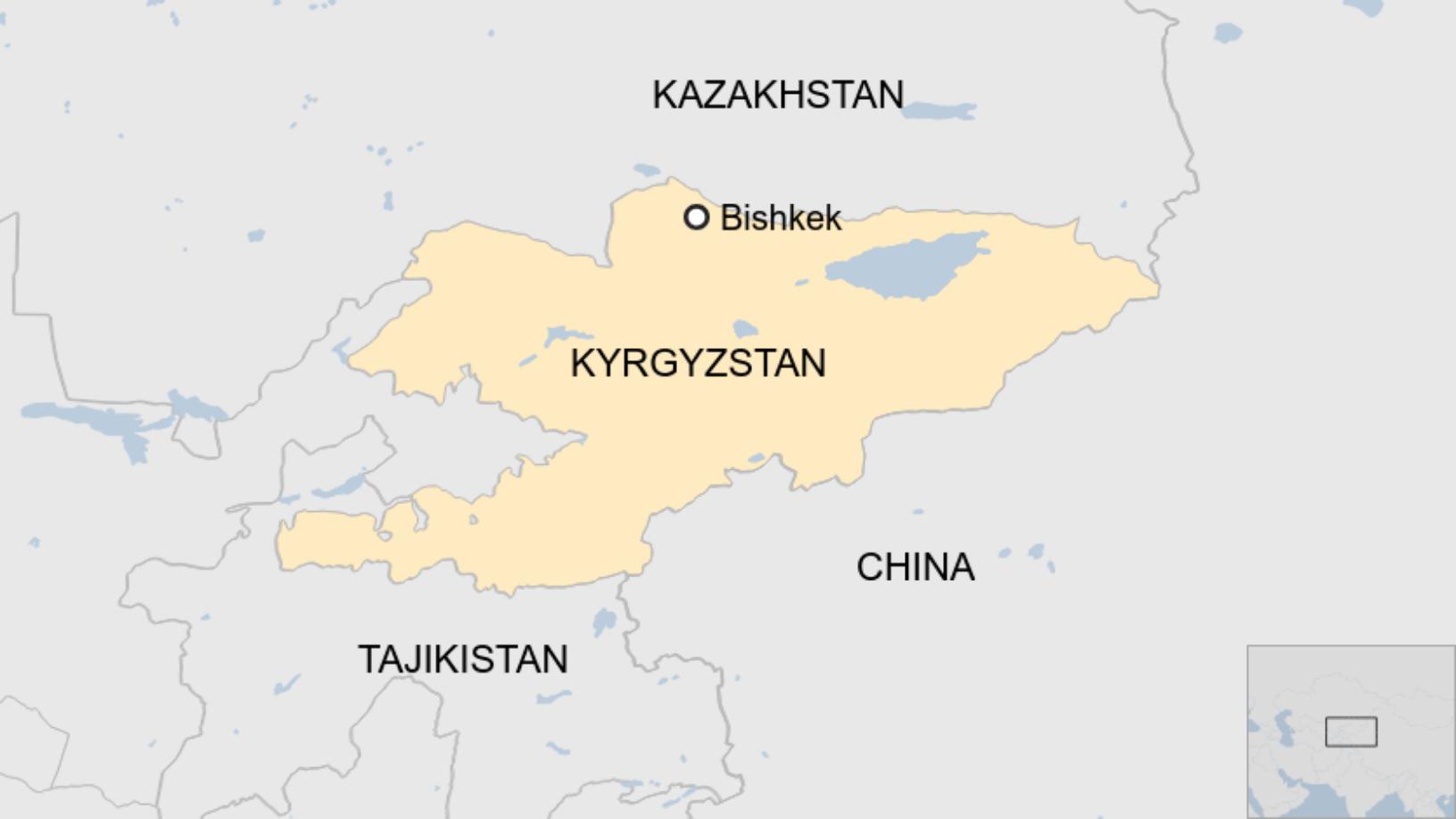 How did the uprising unfold?
Days of chaos saw protesters seizing government buildings and freeing high-profile political detainees including Mr Japarov, who had been serving an 11-year sentence for kidnapping a regional governor during an opposition protest seven years ago.
Former President Almazbek Atambayev, who was serving an 11-year sentence for corruption, was also released.
A 19-year-old man was killed and nearly 700 people were injured in clashes with security forces.
The Central Election Commission then said it had invalidated the election results "in consideration of the political situation in the country".
The president's office remained under the control of protesters on Tuesday, according to an AFP news agency report and crowds were reportedly roaming the streets targeting businesses.
What do we know about the election?
Only four political parties out of 16 had passed the threshold for entry into parliament in Sunday's election. Three of the four had close ties to President Jeenbekov.
None of the established opposition parties secured a seat at the parliament and on Monday all 12 opposition groups jointly declared they would not recognise the results of the vote.
They accused parties close to the president of vote-buying and voter intimidation - claims international monitors said were "credible" and a cause for "serious concern".
Some observers claimed to have seen, during the first hours of voting, some citizens with marked masks being handed filled-out ballots. There were also allegations of voters being bribed and bussed in to places where they could swing the result.