Afghan-Taliban conflict: Families flee fresh fighting in Helmand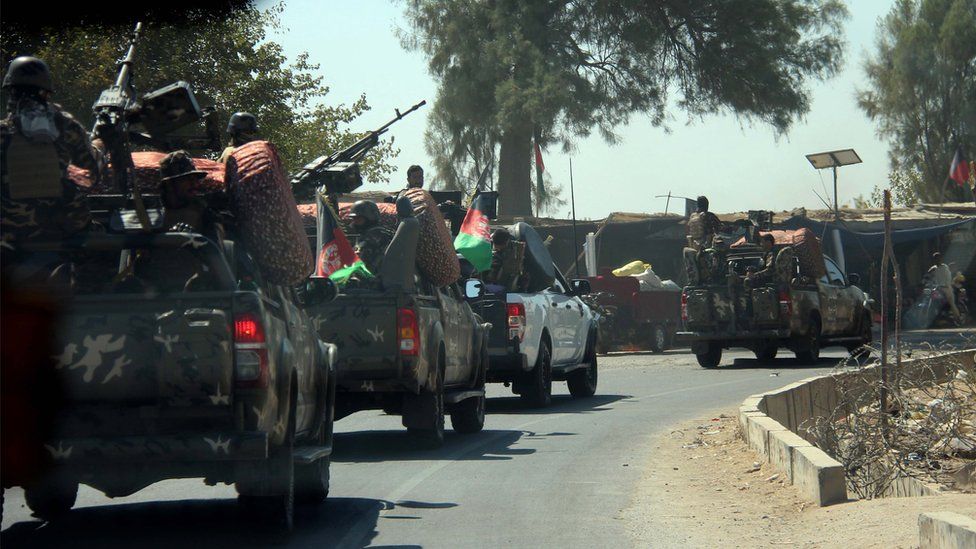 Thousands of families are fleeing their homes as heavy fighting between government forces and the Taliban rages in Afghanistan's Helmand province.
It is the third day of violent clashes as Afghan forces try to defend the strategic capital of the province, Lashkar Gah, from a Taliban assault.
It is estimated that about 35,000 people have so far fled their homes.
The latest fighting is the first big Taliban offensive since peace talks between the two sides began last month.
Afghan government forces are fighting back, supported by US airstrikes.
Large parts of Helmand and neighbouring Kandahar remain without electricity after the Taliban attacked a power substation on Monday.
A number of telecommunication networks have also been shut down.
Of about 5,000 families estimated to have been displaced, some are reported to have sought refuge in homes and properties in neighbouring areas.
One family told the BBC's Lyse Doucet that they left their home in Lashkar Gah with only the clothes they were wearing, without knowing if they would find a safe place to sleep.
Others told our correspondent that they feared they may die from hunger, while staff at local hospitals said they had admitted dozens of casualties.
A Taliban offensive and another humanitarian crisis - that's not what Afghans expected to follow the historic start of peace talks.
The Taliban's push in the strategic southern province of Helmand is again testing the strength of Afghan forces, as well as the US's commitment to its ally, only months after the US and the Taliban signed their own agreement.
US warplanes are striking again, day after day, as the Taliban continue their attack. It's the time of year, as winter starts to close in, when violence often intensifies at the end of the fighting season.
But, this year, the Taliban will also be seeking to increase their leverage at the peace talks, and boost the morale of their fighters. They say they're only taking back areas they once controlled.
But their actions on the battlefield are again raising questions about their commitment to the negotiating table.
Meanwhile, Taliban and Afghan government negotiators are meeting again in the Qatari capital of Doha, trying to overcome their differences about a framework for formal peace talks.
The historic talks began on 12 September, one day after the 19th anniversary of the deadly 9/11 al-Qaeda attacks in the US that led to the US beginning military operations in Afghanistan.
It was the first time that Afghan leaders had sat down with members of the militant Islamist group.
The US has been encouraging both sides to reach an agreement, telling them: "The entire world wants you to succeed."
You may also be interested in: