Thailand protests: Thousands rally for third straight day despite government ban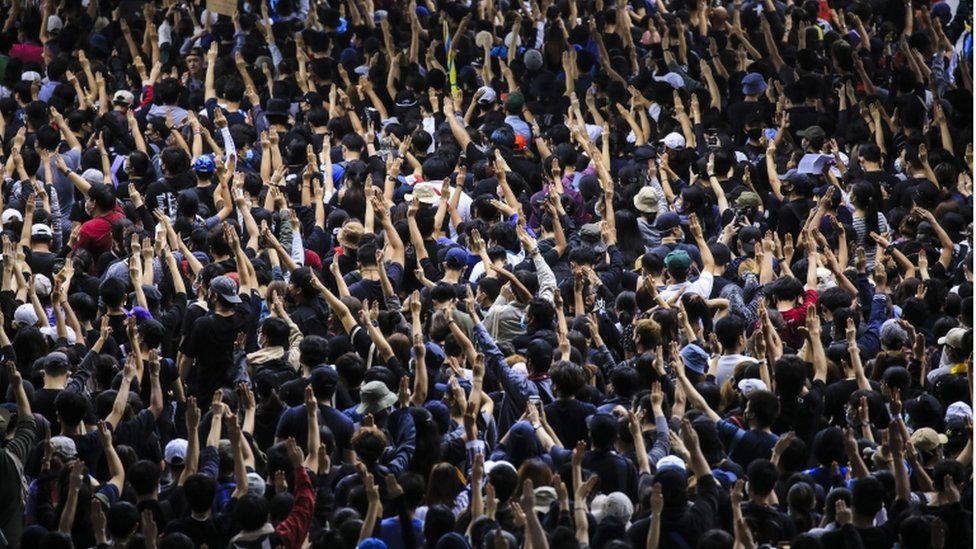 Thousands of Thais have rallied for a third consecutive day of protests in the capital Bangkok, defying once again a ban on gatherings.
They gathered in at least three separate locations despite the suspension of much of the city's public transport system.
Protesters want the prime minister to resign, and reform of the monarchy.
"We had no armour, just umbrellas," a 25-year-old public servant told the AFP news service amid claims that the water contained a chemical that stung the eyes.
Another protester, Min, 18, said: "I'm concerned for my safety but if I don't come out, I have no future."
Min was carrying a helmet and gas mask. Protesters also carried signs saying "You can't kill us, we're everywhere" and "stop hurting people". They gave the three-fingered salute of resistance, inspired by the Hunger Games film.
The protest locations - Lat Phrao, Wongwian Yai and Udomsuk - were announced on social media at short notice in a bid to outsmart the authorities who had closed off parts of the city they suspected would be used for the protests.
The Bangkok Post said some 20,000 people had turned out to protest.
Police largely kept their distance on Saturday, in contrast to the tactics used to break up Friday's protest.
"We will primarily negotiate," police spokesman Yingyos Thepjamnong told a news conference. "Enforcing the law will be step by step, using methods that follow international standards."
On Thursday, the government had attempted to curtail the student-led protest movement by issuing the emergency decree and banning gatherings of more than four people.
They have also arrested dozens of activists including human rights lawyer Anon Nampa, student activist Parit Chiwarak - widely known by his nickname "Penguin" - and Panusaya Sithijirawattanakul.
How did the protest movement begin?
Thailand has a long history of political unrest and protest but a new wave began in February after a popular opposition political party was ordered to dissolve.
The order followed elections in March last year - the first since the military seized power in 2014 and the first chance to vote for many young people and first-time voters. The elections were seen as an opportunity for change after years of military rule.
Prayuth Chan-ocha, who had the all-important support of the military, was re-installed as prime minister. The pro-democracy Future Forward Party (FFP), with its charismatic leader Thanathorn Juangroongruangkit, garnered the third-largest share of seats and was particularly popular with young, first-time voters.
But in February a court ruled the FFP had received a loan from Mr Thanathorn, which was deemed a donation, making it illegal - and the party was forced to disband, prompting thousands of young Thais to join street protests.
The protests were halted by Covid-19 restrictions, which banned gatherings, but they began again in June when a prominent pro-democracy activist went missing.
Wanchalearm Satsaksit, who had been living in Cambodia in exile since 2014, was reportedly grabbed off the street and bundled off into a vehicle. Protesters accused the Thai state of orchestrating his kidnapping - a charge police and government officials have denied.
In recent months, the protesters have challenged the king's decision to declare Crown wealth as his personal property, which made him by far the wealthiest person in Thailand. It had until now been notionally held in trust for the benefit of the people.
There have also been questions over the king's decision to take personal command of all military units based in Bangkok - a concentration of military power in royal hands unprecedented in modern Thailand.