Thailand protests: State of emergency lifted after days of rallies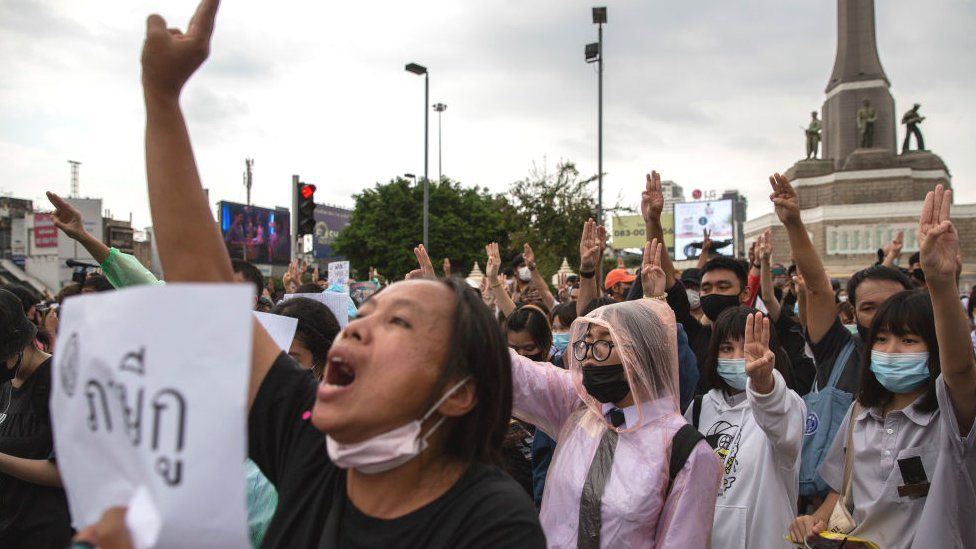 Thailand has revoked an emergency decree it imposed a week ago as it tried to end months of protests against the prime minister and the monarchy.
An official statement said the "violent situation" that had led to the decree had eased.
The measures, which banned gatherings of more than four people and imposed a curfew, prompted even larger rallies.
On Wednesday protesters gave PM Prayuth Chan-ocha three days to step down or face more demonstrations.
In response, Mr Prayuth signalled he would lift the decree but asked protesters to reciprocate by toning down their "hateful and divisive talk".
The student-led movement is demanding the resignation of Mr Prayuth, a former general who seized power in a 2014 coup and last year became prime minister after a controversial vote.
They want a new election, amendments to the constitution and an end to the harassment of state critics.
They are also demanding curbs on the king's powers - a call that has led to unprecedented public discussion of an institution shielded from criticism by law.
Why has the government lifted the decree?
A statement published in the official Royal Gazette on Thursday said the emergency measures announced last week would end from noon local time (05:00 GMT).
"It appears that the serious situation that led to the state of emergency declaration has subsided and ended. The circumstances can now be controlled by state officers," the statement said.
Last week, authorities citied the proximity of protesters to Queen Suthida's convoy as a reason for the decree. Some activists had jeered and held up their trademark three-finger salute - borrowed from the Hunger Games movie - at her passing motorcade in Bangkok.
The latest government move comes a day after protesters marched to Government House in Bangkok and gave Mr Prayuth a three-day deadline to step down or face more demonstrations.
The prime minister has refused to resign. In an televised address on Wednesday he said discussions should be held in parliament.
"I will make the first move to de-escalate this situation," said Mr Prayuth as he announced he was ready to lift the decree.
"I ask the protesters to reciprocate with sincerity, to turn down the volume on hateful and divisive talk."
An extraordinary parliamentary sitting has now been announced for Monday.
Why have the protests escalated?
After the decree was ordered, Thai authorities arrested dozens of activists - including key protest leaders.
They also ordered investigations into a number of news outlets, suspended the online platforms of Voice TV, a local broadcaster, over its coverage of the protests and ordered internet providers to block Telegram, a private messaging app that protesters have used to organise rallies.
But the escalating crackdown failed to stem the protests. Activists ignored the protest ban and have rallied in the tens of thousands in the days since, demanding the release of those in prison.
At a large demonstration in Bangkok last Friday, police used major force for the first time in this renewed wave of protest, deploying water cannons and tear gas to break up the rallies.
Protesters have responded by employing fresh tactics, including flash mobs and calls for everyone to be a leader to avoid arrest.
What reaction has there been?
Despite Thursday's developments, protest leaders vowed to keep up the pressure on Thailand's leaders.
Patsaravalee Tanakitvibulpon, who was arrested on Wednesday and later released on bail, told reporters that Mr Prayuth "doesn't have any legitimacy left to be prime minister".
"For the past six years he did nothing to benefit the people," said Ms Patsaravalee, also known as "Mind".
"Prayuth Chan-ocha doesn't have any trustworthiness left for us. Therefore, he must resign, along with his entire cabinet."
Fellow protest leader Sirawith Seritiwat said Mr Prayuth was trying to stay in power while ignoring the people's demands.
"The emergency decree shouldn't have been issued in the first place," he added.