Covid-19: Singapore 'cruise to nowhere' ends after passenger tests positive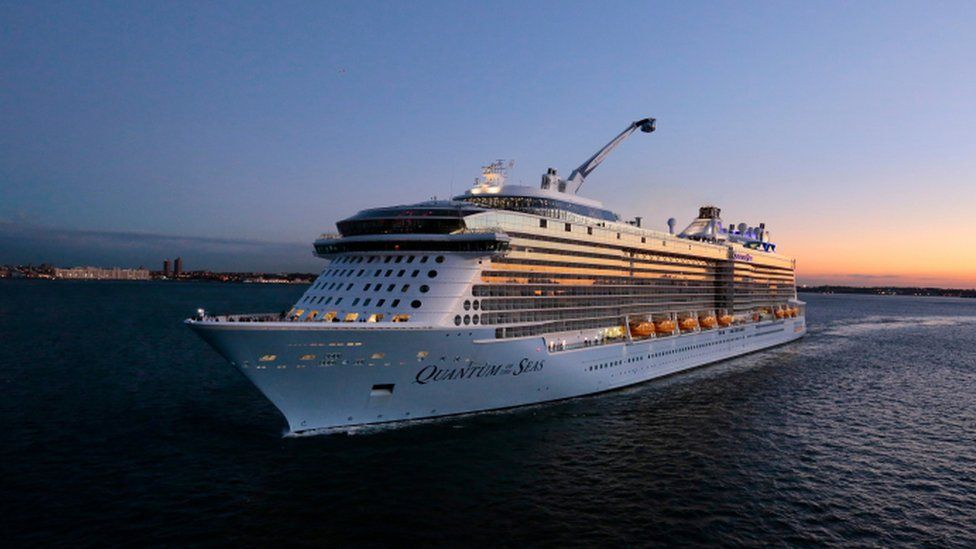 A Royal Caribbean ship has returned to Singapore on day three of a four-day "cruise to nowhere" after a passenger tested positive for Covid-19.
The city state's "cruises to nowhere" - starting and ending at the same port without stops - launched last month.
They are an attempt to revive the hard-hit cruise industry, which largely came to a global standstill after ships saw large outbreaks early in the pandemic.
Singapore's special cruises are only open to its residents.
The Royal Caribbean cruise ship Quantum of the Seas left Singapore on Monday for a four-day round trip as part of a "safe cruising" scheme announced by the country's tourism board in October.
The cruise company said it had turned the ship around after one guest tested positive for coronavirus after checking in with the on-board medical team.
"We identified and isolated all guests and crew who had close contact with this guest, and each of those individuals have subsequently tested negative for the virus," it said in a statement.
The firm added that passengers would be allowed to disembark "after a review of contact tracing is completed".
According to Singaporean daily newspaper The Straits Times, there were 1,680 guests and 1,448 crew members on board.
The passenger who tested positive for Covid-19 was an 83-year-old Singaporean who first reported to the ship's medical centre with diarrhoea and underwent a coronavirus test as part of on-board protocols, it added.
A raft of safety measures were introduced for passengers on the special cruises to nowhere, including Covid-19 tests before boarding and after disembarking. The ships were also running at half their usual capacity for safe distancing purposes.
"That we were able to quickly identify this single case and take immediate action is a sign that the system is working as it was designed to do," said the Royal Caribbean.
Late on Wednesday morning, a Reddit user, who said they were quarantined on the ship, posted that passengers were "not cleared to disembark yet".
The user had first posted on the social media platform at 02:42 local time (18:43 GMT) to say the captain had just announced the cruise would be cut short due to the Covid-19 case.
Royal Caribbean has said another cruise scheduled to depart on Thursday will go ahead, local media reported.
An 'uncertain future' for cruise operators
By Andreas Illmer, BBC News, Singapore
Singaporeans are desperate to get off their little island. For months, the border has been effectively closed and the thirst for travel has taken bizarre forms like eating airline food on a plane parked on the tarmac or booking staycations at the airport.
An eagerly awaited travel bubble with Hong Kong was delayed because of rising cases there.
So the "cruises to nowhere" were the first real travel option for months - and the initial trips all sold out in no time. Returning guests were beaming with praise and enthusiasm, both about the cruise experience and the safety protocols.
After all, in the early days of the pandemic, cruise ships had been hotbeds for the virus, sometimes stranded for weeks at sea with those on board not allowed to get off. But Singapore has had only a handful cases over the past few months and people put a lot of trust in the authorities' stringent contact tracing.
The Covid case on the Quantum of the Seas will put that trust to the test and cruise operators once again are facing a very uncertain future.
You may also be interested in...