Afghanistan: Kabul deputy governor killed in 'sticky bomb' attack on car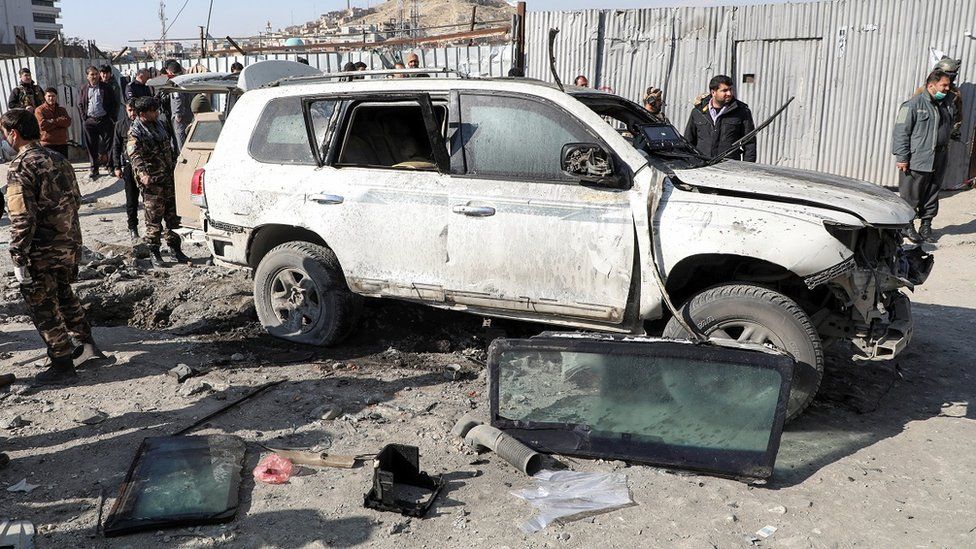 The deputy governor of the Afghan capital, Kabul, has been killed in a "sticky bomb" attack, security officials say.
Mahboobullah Mohebi and his secretary both died on Tuesday when a device attached to their car exploded.
No group has yet said it was behind the attack.
It is the latest in a spate of killings. Also on Tuesday, a deputy provincial council member died after a similar attack in Ghor province.
Journalists, activists and other political figures have been targeted in recent weeks.
The capital has also been hit by rockets twice this month, and recently saw attacks on educational centres, including a massacre of students at a university. The Islamic State group said it had carried out the student killings and one of the rocket attacks.
Several recent attacks on individuals have used so-called "sticky bombs", attached to vehicles by magnets.
Afghan news channel Tolo TV reported that two of Mr Mohebi's security guards were also injured in Tuesday's attack.
Violence involving the Taliban has also continued despite peace talks between the group and Afghan officials in Doha, Qatar.
The negotiations, which have seen some progress on preliminary issues, have now been paused until January.
The two sides are yet to begin discussing a ceasefire or power-sharing arrangement.
Last month the US announced plans to withdraw 2,000 troops from the country by mid-January.
The decision was criticised amid concerns that a sharp and speedy reduction of troops would weaken the Afghan government's ability to deal with a resurgence of the Taliban and other militant groups.
Many analysts fear the Afghan army is not strong enough to fight a continued insurgency on its own.
You may also be interested in: