Japan 'Twitter killer' Takahiro Shiraishi sentenced to death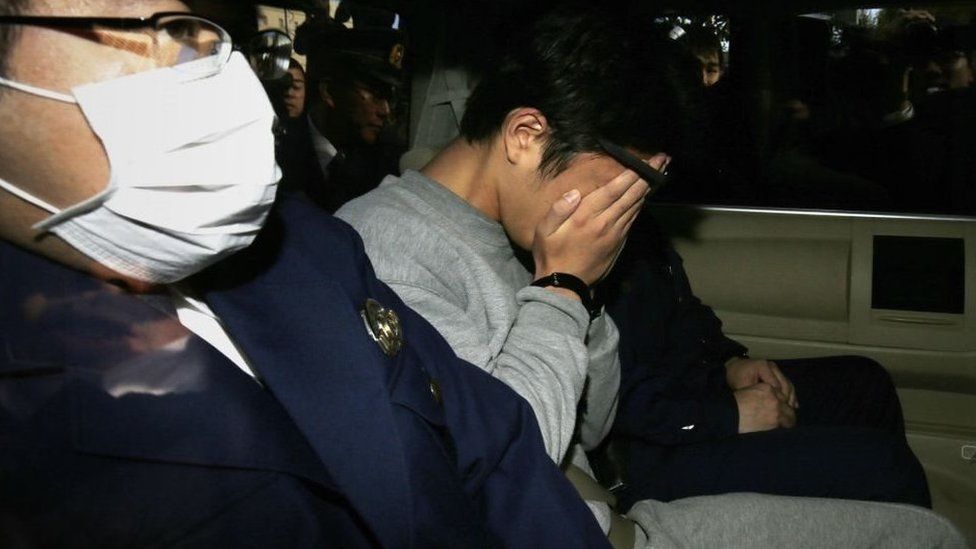 A man who murdered nine people after contacting them on Twitter has been sentenced to death, in a high-profile case that has shocked Japan.
Takahiro Shiraishi, dubbed the "Twitter killer", was arrested in 2017 after body parts were found in his flat.
The 30-year-old had admitted to murdering and dismembering his victims - almost all of whom were young women he met on the social media platform.
The serial killings triggered debate over how suicide is discussed online.
More than 400 people turned up to watch the verdict on Tuesday, despite the court only having 16 seats available for the public, reported local media.
Public support for the death penalty remains high in Japan, one of the few developed nations to retain capital punishment.
How did he find his victims?
Shiraishi used Twitter to lure suicidal women to his home, saying he could help them die and, in some cases, claimed he would kill himself alongside them.
He strangled and dismembered eight women and one man aged 15 to 26 between August and October 2017, said Japan's Kyodo news agency, citing the indictment.
The serial killings first came to light on Halloween that year when police found dismembered body parts in Shiraishi's flat in the Japanese city of Zama, near Tokyo, while they were searching for a missing 23-year-old woman, who turned out to be one of the victims.
After she had gone missing, her brother accessed her Twitter account and alerted police to a suspicious handle, leading them to Shiraishi's residence on the morning of 31 October in 2017.
Japanese media called it the "house of horrors" after investigators discovered nine heads along with a large number of arm and leg bones stashed in coolers and tool boxes.
What happened at the trial?
While prosecutors sought the death penalty for Shiraishi, his lawyers argued he was guilty of the lesser charge of "murder with consent", claiming his victims had given their permission to be killed.
Shiraishi later disputed his own defence team's version of events, and said he killed without their consent.
On Tuesday, Judge Naokuni Yano, who delivered the verdict, called the crimes "cunning and cruel", and found the defendant "fully responsible" for his actions.
"None of the nine victims consented to be killed, including silent consent," public broadcaster NHK quoted the judge as saying.
"It is extremely grave that the lives of nine young people were taken away. The dignity of the victims was trampled upon."
Shiraishi told the court last month that he did not plan to appeal against his sentence if found guilty. It was not immediately clear if that remained his plan.
The death penalty is carried out by hanging in Japan, which has more than 100 prisoners on death row.
Death row inmates are not told when they will be put to death until the day of their execution. Years usually pass between sentencing and an execution being carried out.
The names of those Shiraishi murdered were withheld to protect their privacy.
The father of one victim, aged 25, told the court last month that he would "never forgive Shiraishi even if he dies", according to Japanese broadcaster NHK
"Even now, when I see a woman of my daughter's age, I mistake her for my daughter. This pain will never go away. Give her back to me," he had said.
On Tuesday, the father of another victim, who was 17, told NHK the death sentence was "appropriate".
"I feel like I want to get revenge, but bereaved families can't do anything. I don't know how to vent my anger," he said.
The brother of a 25-year-old victim said his "heart died" when he heard Shiraishi's testimony.
"It didn't sound at all like he regretted it... It felt like I was being hurt with a sharp knife over and over again."
What impact has the case had?
The killings stunned Japan, triggering fresh debate about suicide and how to help those considering it, as well as about websites where suicide is discussed. The government has indicated it may introduce new regulations.
Summing up, the judge said the case had "provoked great anxiety in society, because social networks are so commonly used".
Japan has long battled one of the highest suicide rates in the industrialised world. Figures have dropped since preventative measures were introduced more than a decade ago but there have been signs that rates have been rising again during the coronavirus pandemic.
If you are feeling emotionally distressed and would like details of organisations which offer advice and support, click here.
In the UK you can call for free, at any time, to hear recorded information on 0800 066 066. In Japan you can get help here.
You may also be interested in: