Park Geun-hye: South Korea court upholds 20-year jail term for ex-leader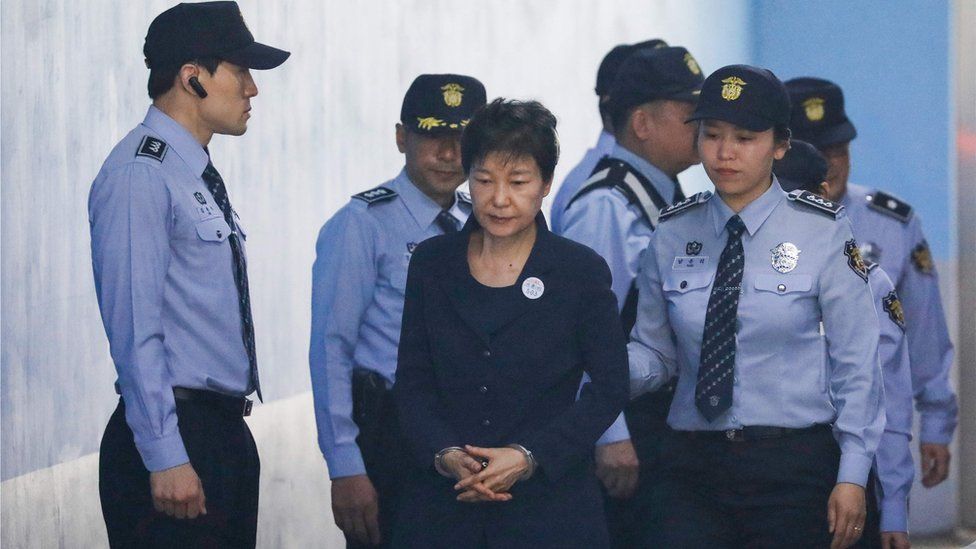 South Korea's top court has upheld a 20-year jail term for former President Park Geun-hye over a vast corruption scandal that led to her downfall.
The ruling on Thursday upheld the reduced term given to Park in July on appeal after she was originally sentenced to 30 years in prison.
Prosecutors had tried to appeal against that reduction.
Park was convicted of abuse of power and coercion after she was impeached in 2017.
The Supreme Court on Thursday also upheld her fine of 18bn won (£12m, $17m).
The former president was her country's first democratically-elected leader to be forced from office in a fallout that also landed two conglomerate heads in prison.
Park, 68, was initially sentenced to a total of 30 years in jail and fined 20bn won, but a high court later reduced the fine and the term to 15 years for corruption with another five for abuse of power.
Thursday's ruling is the final verdict in the case, the culmination of a scandal that had fuelled widespread rage against political and business elites.
What was she convicted of?
The court ruled that she had colluded with her close friend, Choi Soon-sil, to pressure conglomerates such as electronics giant Samsung and retail chain Lotte to give millions of dollars to foundations run by Choi.
She was also convicted of forcing companies to sign lucrative deals with firms owned by Choi and donate gifts to Choi and her daughter.
In addition, Park was found guilty of leaking confidential presidential documents to her long-time friend.
The ex-leader has always denied wrongdoing and refused to take part in any of the court proceedings.
What led to her downfall?
Park's close childhood friendship with Choi lay at the heart of her undoing.
The woman swiftly became the leader's most trusted confidante.
But their relationship came under intense public scrutiny and Choi was deemed to have had undue influence over the nation's affairs through her connection with Park.
After a prolonged series of hearings and months of huge street protests calling for her resignation, Park was finally removed from office in March 2017 and arrested shortly afterwards.
Who else was caught up in this?
Some of South Korea's biggest companies and their leaders were drawn into the scandal, as well as numerous figures from the entertainment world and government servants.
Samsung's de facto leader Lee Jae-yong, also known as Jay Y Lee, was singled out in particular after details emerged that he had given a horse to Choi's daughter Chung Yoo-ra, who is an equestrian.
He was sentenced to jail, but only served five months before he was freed, when an appeals court reduced and suspended his sentence.
Ms Chung has also faced scrutiny, and was extradited from Denmark to South Korea in 2017 to face questioning.
Is this unusual in South Korea?
Park, the daughter of a former military dictator, is not the only ex-president to have been arrested for corruption.
In 2018, former leader Lee Myung-bak was charged with corruption over allegations he took bribes while in office.
Two others, Chun Doo-hwan and Roh Tae-woo, were convicted for treason and corruption in the 1990s.
In 2009, former president Roh Moo-hyun killed himself while he was under investigation for corruption.
The country's first female leader now faces a total of 22 years behind bars - as she was separately sentenced to two years in prison for election law violations.
But the end of the legal process in her graft case also paves the way for a potential pardon as called for by her still vocal supporters.
A top aide to South Korean President Moon Jae-in has said the leader will make a decision on a pardon that reflects the will of the people, reported Reuters news agency.
Yet Park remains a divisive figure.
A survey by the pollster Realmeter last week suggested that 47.7% of people were in favour of a pardon and 48% against.
You may also be interested in...
In 2017 South Korean police clashed with protesters in Seoul as the country's top court upheld parliament's decision to impeach Park.