Myanmar: Whole town flees amid fierce fighting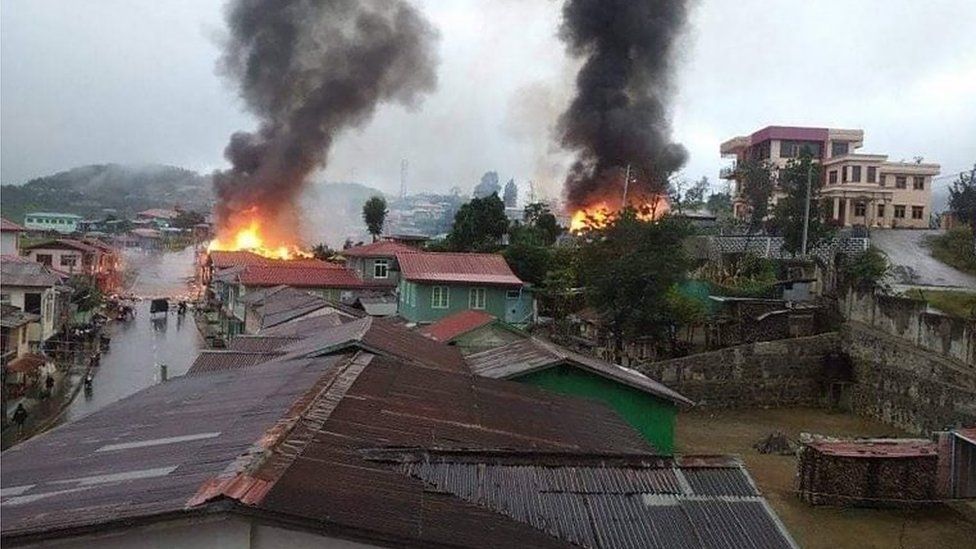 Nearly all the 8,000 residents of a town in Myanmar have fled following fighting between the army and militia forces opposed to the military coup.
A number of houses in Thantlang, Chin state, were set ablaze by artillery during fighting over the weekend.
It is thought that thousands of residents have fled to India across the nearby border.
Myanmar's military seized power in a coup in February sparking huge protests and the formation of opposing militia.
About 20 homes were set ablaze in Thantlang, according to Reuters news agency.
A Christian pastor was reported to have been shot dead by soldiers when he tried to put out a burning building.
Salai Lian, a spokesperson from the Thantlang Placement Affairs Committee, an organisation helping displaced people, claimed that military forces had started "shooting at houses" in the town, causing people to flee.
One resident told Myanmar Now: "Nearly 100 percent of the residents have fled. Only those government employees who do not participate in the civil disobedience movement and the army troops remain in the town."
In the Indian state of Mizoram, the head of a civil society group told Reuters that 5,500 people had arrived from Myanmar in two Mizoram districts over the past week.
UN special rapporteur Thomas Andrews said the situation in Thantlang showed the "living hell" people were enduring at the hands of the Burmese military.
In August, General Min Aung Hliang named himself prime minister and said the country's state of emergency would be extended.