Fumio Kishida wins race to become Japan's next prime minister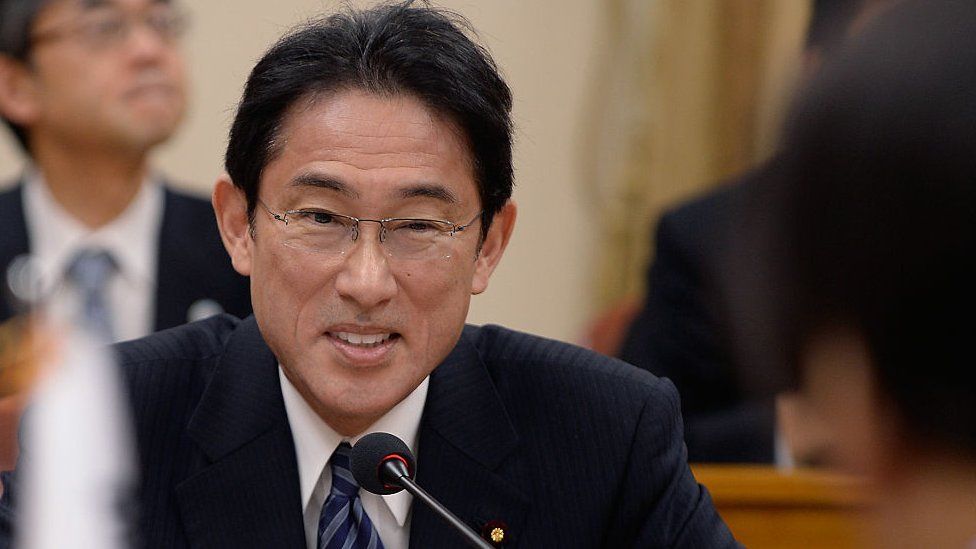 Fumio Kishida has won a race to lead Japan's ruling Liberal Democratic Party (LDP), putting him on course to become the next prime minister.
Mr Kishida will succeed Yoshihide Suga, who decided to step down after just one year in office.
His first mission as prime minister will be to lead the LDP to victory in an upcoming general election.
The party's popularity fell after it pushed to host the Tokyo Olympics despite public opposition.
Mr Kishida, a former foreign minister, beat out Taro Kono, who was widely regarded as the most popular candidate.
Given the LDP's majority in parliament, Mr Kishida's position as prime minister has been all but cemented.
Mr Kishida, 64, has long targeted the prime ministerial role, losing out to Mr Suga in last year's poll.
The new prime minister faces a range of tough issues including post-pandemic economic recovery and confronting threats from North Korea.
"My skill is to really listen to people," Mr Kishida said after securing his win. "I'm determined to make efforts with everyone for an open LDP and a bright future for Japan".
Mr Suga decided to step down as prime minister after a year in office due to plummeting poll ratings caused by the handling of the pandemic.
Mr Kishida, 64, hails from a political family. Both his father and grandfather were members of the country's House of Representatives
He became the longest-serving foreign minister when he held the post between 2012 and 2017
A Hiroshima native, he opposes the use of nuclear weapons, having seen the impact on his home town
Mr Kishida arranged President Barack Obama's 2016 visit to Hiroshima, the first visit to the bombed city by a sitting US president
Japan's 100th prime minister
by Mariko Oi, BBC News, Japan
High-profile minister Taro Kono, known for his frank replies to his 2.5 million Twitter followers, was seen by Japanese voters as the frontrunner.
But he lost, and instead former foreign minister Fumio Kishida was chosen by the party. He will become the country's 100th prime minister when parliament holds an extraordinary session on 4 October.
Mr Kishida comes from a family of politicians.
He is known as a moderate-liberal politician so he's expected to steer the ruling conservative party slightly to the left.
While his critics describe him as bland and boring, he's long been seen within the party as its future leader.
And most crucially, unlike Mr Kono, he had the backing of the party's veteran politicians.
He's promised to spend billions of dollars to help the world's third-biggest economy recover from Covid restrictions.
Unlike another rival, Sanae Takaichi, he has been more critical of the economic policy of former prime minister Shinzo Abe, known as Abenomics, saying that only the rich got richer.
With China also high on the agenda for the leadership election, Mr Kishida has accused Beijing of wanting to export "its authoritarian system".
Ahead of Japan's general election, voters will be watching how he aims to balance relations with the US and China.