Hong Kong: University orders Tiananmen statue's removal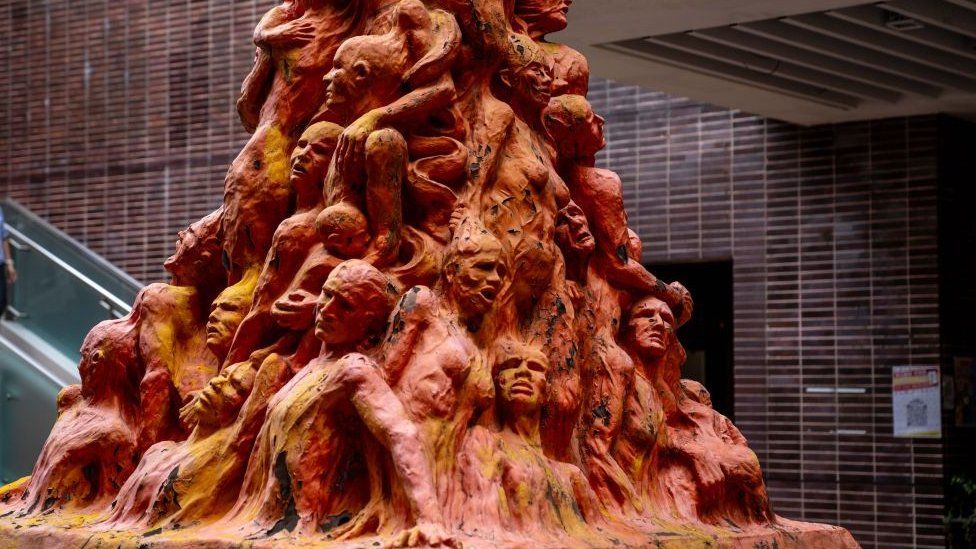 The University of Hong Kong has said a statue commemorating the Tiananmen Square massacre must be removed.
The Pillar of Shame depicts dozens of torn and twisted bodies and was at the forefront of vigils held in the city to commemorate the 1989 crackdown.
The university said the decision was "based on the latest risk assessment and legal advice" without expanding on this explanation.
Beijing has recently moved to silence opposition to its rule in Hong Kong.
Tiananmen is still a heavily censored topic in modern China. The anniversary was marked annually in Hong Kong until it was banned by authorities in 2020, citing Covid measures.
Pillar of Shame, by Danish sculptor Jens Galschiot, has been on display at the university's campus for 24 years.
But the university wrote a letter to the Hong Kong alliance, a now disbanded group which organised an annual vigil, asking for the piece to be removed by 13 October.
It added that the statue would be deemed "abandoned" if it was not removed from the campus.
Mr Galschiot told Hong Kong Free Press that the statue, which was given to the alliance as a gift, is "difficult to remove".
What happened in Tiananmen Square?
In 1989, Beijing's Tiananmen Square became the focus for large-scale protests, calling for reform and democracy.
Demonstrators had been camped for weeks in the square, but late on 3 June, the military moved in and troops opened fire.
China has only ever said that 200 civilians and security personnel died, but there has been no publicly released record of deaths. Witnesses and foreign journalists have said the figure could be up to 3,000.