The teacher defying the Taliban on girls' education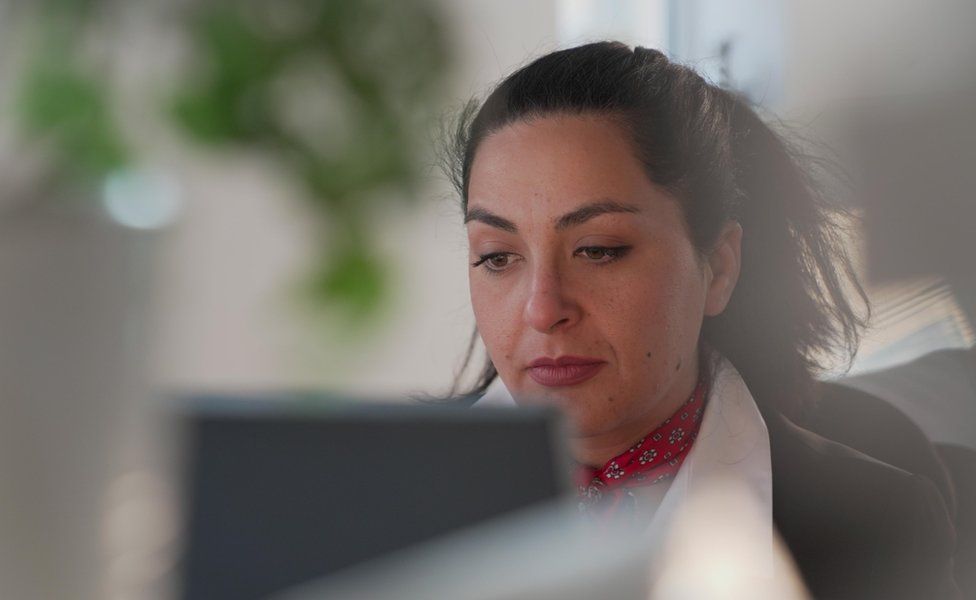 When the Taliban took power in Afghanistan they instructed girls and young women to stay home from school. With no resolution in sight, one member of the Afghan diaspora decided to act. Angela Ghayour's online school now has nearly 1,000 students and more than 400 volunteer teachers.
Angela was just eight when civil war broke out across Afghanistan, in 1992. Her family fled from their home in Herat in the west of the country to Iran, and for the following five years Angela was unable to go to school - ineligible because of the family's temporary visa status.
"It was quite common back then that Afghan children who had fled to Iran couldn't go to school, because they didn't have the right documents," Angela recalled, looking out the window towards the sea from her home in Brighton in the UK.
After five years, Angela's father finally managed to secure the right paperwork and she was able to go to school in Iran. And aged just 13, she realised she had a calling.
Every day after school, Angela would return home and teach 14 other Afghan children, all of them unable to go to school. Angela's father was a gardener in Iran, and she would gather the small class in his well-tended garden and teach them everything she learned that day - reading, writing, maths.
Years later, after the Taliban was deposed from power, Angela returned to Afghanistan and qualified as secondary school teacher, before moving to the Netherlands, and then finally to the UK.
Like many members of the Afghan diaspora, Angela felt paralysed watching events unfold in her home country unfold over the past few months. As the US withdrew the last of its troops, after 20 years of war, the Taliban swept back to power.
In what seems like an instant, two-decades of progress in women's education was put in jeopardy. The Taliban claim that their restrictions on women working and girls studying are "temporary" and only in place to ensure all workplaces and learning environments are "safe" for them.
But the thought of girls once again being deprived of education, like she was for her first five years in Iran, made Angela miserable. After three months with no indication from the Taliban that the restrictions would be relaxed, she felt compelled to act.
So Angela founded the Online Herat School, an educational resource for Afghan women and girls. She posted on Instagram asking for help from any experienced teachers, and since that first post nearly 400 volunteers have joined the programme. Via Telegram or Skype, they offer more than 170 different online classes in everything from maths to music to cooking to painting. Most of the teachers are from Iran, and they work between two and eight hours a day.
"I feel this school is the result of all of my pain, my agonies and experiences," said Angela.
"Our motto is, the pen instead of the gun."
Together the volunteers support nearly 1,000 students. One of them is Nasrin, a 13-year-old who lives in Kabul with her four sisters. Since the Taliban took power, and banned school for girls over seven, the sisters have all had to forfeit school or university.
The girls have been doing their best to keep on studying at home, but it's been especially difficult for her two eldest sisters, who were at university studying medicine and engineering.
"All my dreams have been ruined. Even if the schools reopen, it won't be the same," Nasrin said in an interview. "I wanted to become a pilot, now that will never happen as the Taliban would never let girls be pilots."
But the girls now have a ray of hope, in the form of Angela's online school.
Nasrin is now studying Turkish with one of the volunteer teachers. She would love to live in Istanbul one day, she said. The lessons have allowed her to dream again.
In recent weeks, there has been some positive news for female students in the north of the country, where girls have returned to secondary schools in five of the country's 34 provinces.
Young women in private universities, but not state run facilities have also been allowed to return.
But for Nasrin and her sisters in Kabul, along with the large majority of female students across the country, there is still a blanket ban on their return to school.
Female teachers too, like Nasrin's mum, have been told to stay at home, and the Taliban have offered no plan as to when they will be allowed to return to work.
According to UN estimates, 70% of all qualified teachers in Kabul are women. So even for the boys and young men whose schooling continues, there is likely to be a significant shortage of teaching staff to support them.
Long before the resurgence of the Taliban as a political force, Afghanistan was already struggling with an entrenched lack of access to education. According to the Ministry of Education in 2019, more than a third of over 15 year olds were illiterate.
With the large majority of girls now stuck at home, this unfortunate statistic is only likely to rise.
Photographs by Derrick Evans.
You may also been interested in: