Myanmar coup: The women abused and tortured in detention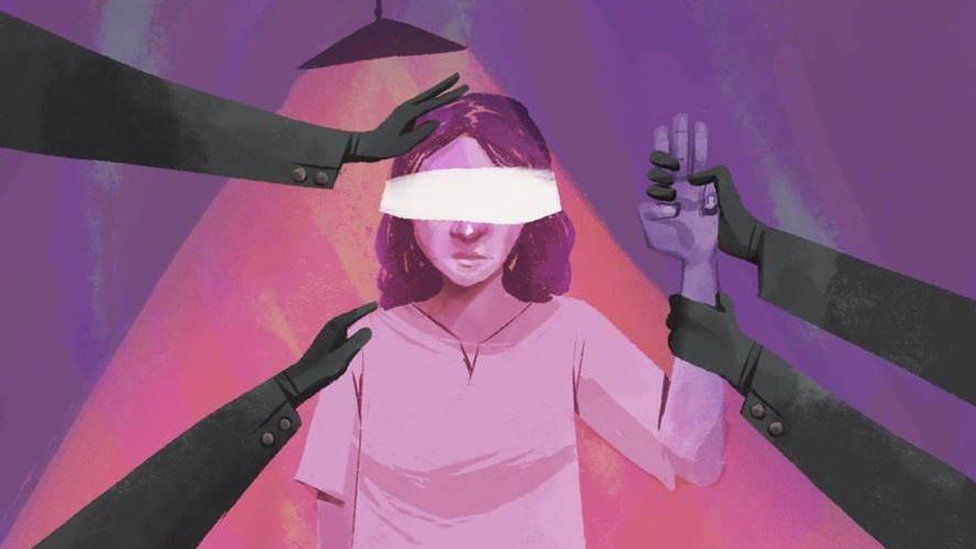 Women in Myanmar have been tortured, sexually harassed and threatened with rape in custody, according to accounts obtained by the BBC.
Five women who were detained for protesting against a military coup in the country earlier this year say they were abused and tortured in the detention system after their arrests.
Their names have been changed in the following accounts to protect their safety.
Warning: this piece contains disturbing descriptions of abuse.
Since Myanmar's military seized power in February, protests have swept across the country - and women have played a prominent role in the resistance movement.
Human rights groups say that although the military in Myanmar (also known as Burma) used disappearances, hostage-taking and torture tactics before, the violence has become more widespread since the coup.
As of 8 December, 1,318 civilians have been killed during military crackdowns on the pro-democracy movement, including 93 women, according to the Assistance Association for Political Prisoners (AAPP) non-profit human rights organisation.
At least eight of those women died while in custody, four of whom were tortured to death in an interrogation centre.
More than 10,200 people have been detained in total, including over 2,000 women.
Democracy activist Ein Soe May was imprisoned for almost six months - the first 10 days of which were spent in one of Myanmar's notorious interrogation centres, where she alleges she was sexually assaulted and tortured.
Soe May told the BBC that one morning, while making placards for a protest, she was arrested and bundled into the back of a van.
"It was already night when I arrived [at an undisclosed location]. I was blindfolded and made to dodge imaginary objects as I made my way to the interrogation room, so they could make a fool of me," Soe May said.
Her captors questioned her, and for every answer they didn't like they hit her with a bamboo stick.
Soe May said she was also repeatedly pressed for details of her sex life. One interrogator threatened: "Do you know what we do to the women that end up here? We rape and kill them."
She was then sexually assaulted while blindfolded. "They pulled down the oversized top I was wearing, they touched me as they did it, exposing my body," she said.
Her blindfold was later removed, and she saw one of the guards take all but one of the bullets out of his revolver.
When she didn't give them details of her contacts, they made her open her mouth and "forced the loaded revolver inside it", she said.
Makeshift detention centres
According to Manny Maung, Myanmar researcher at Human Rights Watch (HRW), interrogation centres "could be anything from makeshift holding sites, a room in a military barrack or even an abandoned public building".
This was corroborated by a lawyer in Myanmar who spoke to the BBC, but asked not to be named for her own safety. She said she represented several detainees who had also reported being tortured and sexually assaulted during interrogations.
"One of my clients was wrongly identified but arrested anyway. When she explained she wasn't the person the authorities accused her of being, she was tortured with an iron rod which was rolled over her shins repeatedly until she lost consciousness," the lawyer said.
The woman was then "sent to another interrogation centre where she alleges a male guard told her that if she slept with him, he would get her released", she added.
The lawyer described a legal system in Myanmar as opaque, and where attorneys like her are sometimes powerless.
"We try to challenge [arrests and interrogations], but we are told the processes are legal and that [interrogators] have been given orders."
While it is impossible to verify Soe May's account, the BBC spoke to other female detainees who also said they had been tortured and sexually assaulted in interrogation centres.
"They forced me to raise the three-finger salute [a symbol of resistance in Myanmar] for more than an hour as a guard stroked my hair to intimidate me," one detainee said.
Another woman, who was taken to an interrogation centre in Shwe Pyi Thar township, said: "They pulled the girls out of the room. Some girls came back with some buttons on their clothes undone or missing."
The BBC put Soe May's testimony to Myanmar's Information Deputy Minister Maj Gen Zaw Min Tun, who denied any torture was being carried out by the military and dismissed it as "fake news".
Earlier this year, the military broadcast an image of a female detainee. Her face had been beaten to the point she was unrecognisable. The image went viral.
She is still in prison, facing weapons charges.
The BBC asked Maj Gen Zaw Min Tun why the military did not hide the injuries.
He said: "It can happen when arrests are made. They try to escape and we have to capture them."
Abuse does not just happen in secret interrogation sites.
An activist in her 50s, who we are calling Ms Lin, described to the BBC how she was placed in solitary confinement for more than 40 days inside Yangon's Insein prison.
Ms Lin didn't have anything in her cell but the clothes she was wearing - not even necessary medication. During her detention she grew increasingly weak.
"I would lie in the dark and worry I was going to die," she said. "Sometimes, I heard shouting and crying from nearby cells. I kept thinking about who was being beaten."
She recounts how one day a male officer entered her cell with several female officers.
"When they were about to leave, I noticed the male officer was videoing me," she said. She made a complaint, but said it was "futile".
HRW researcher Manny Maung told the BBC that often in prisons about 500 women would be crammed into rooms only big enough for, at most, 100 detainees. They would have to take turns to sleep, because they can't all lie down at the same time.
They were also being denied basic sanitation, she said, adding such a step was "denying them a fundamental right".
The woman who was taken to Shwe Pyi Thar interrogation centre also experienced this in prison.
"The women who had just arrived from the interrogation centres had wounds that hadn't healed, whilst some were menstruating and were only allowed to shower after seven days in detention," she said.
Soe May, who was released in an amnesty of more than 5,000 prisoners in October, said her activism was worth the fear of being re-arrested.
"I understand there is always a possibility I could get arrested again and I might die, but I want to do something for my country," she said.
"Although I don't feel safe, I want to continue to be part of this movement."
Illustrations by Davies Surya and Jilla Dastmalchi.
BBC 100 Women names 100 influential and inspirational women around the world every year. Follow BBC 100 Women on Instagram, Facebook and Twitter. Join the conversation using #BBC100Women.