Afghanistan earthquake: What foreign aid is getting in?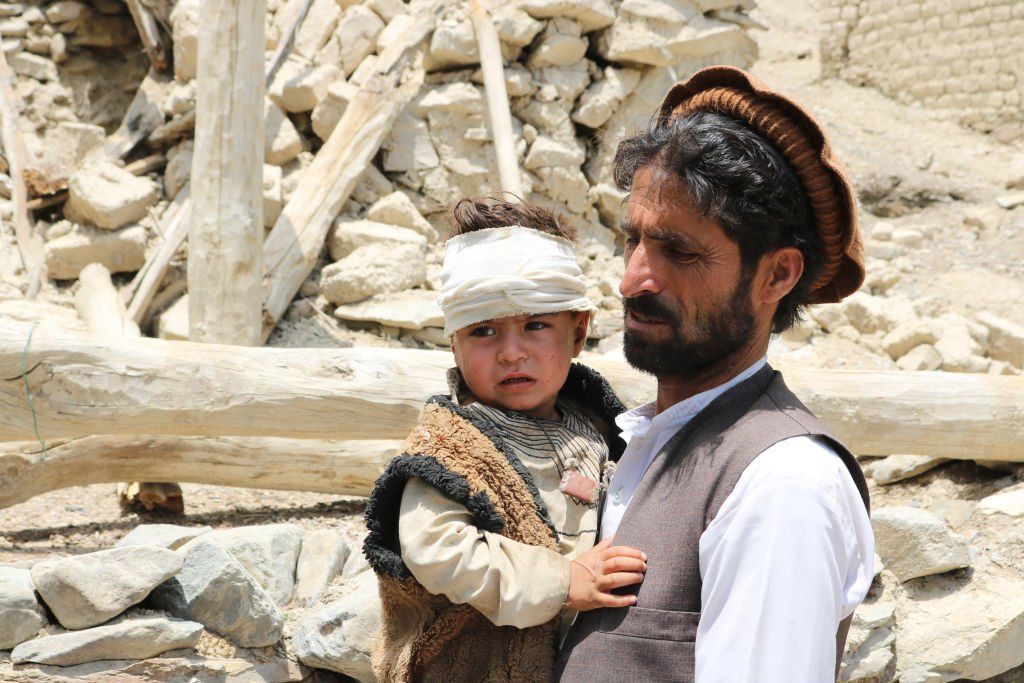 Aid agencies have been working to get relief supplies to thousands of people in south-east Afghanistan, struck by an earthquake in late June.
The disaster left at least 1,000 people dead, and 3,000 injured with thousands of homes destroyed.
The country has been struggling economically after major donors suspended or significantly cut funding when the Taliban took over in August last year.
Is aid reaching earthquake victims?
An estimated 362,000 people are in need of immediate aid, according to the United Nations.
Some aid has reached those affected, although BBC journalists in the area in the days following the quake met people in the remotest parts who were yet to find help.
One villager, Taj Ali Khan, said food and other aid and was hard to access due to the difficult terrain, and that the nearest point to which aid was being delivered was over an hour away.
There are also serious shortages of medicines, equipment and health workers to treat those injured.
Existing medical facilities are not equipped to handle major emergencies, and one health clinic employee told the BBC that hundreds of injured people had gone to a medical facility which had only five beds.
Communications have also been disrupted as mobile towers and power lines were destroyed.
The World Food Programme (WFP) spokesperson for Afghanistan, Shelley Thakral, said that getting aid to the most affected regions was a logistical challenge.
"We are getting [in] supplies where we can, but there are some areas where assistance has not reached because of its remoteness," Ms Thakral told us.
Who has sent earthquake aid?
Various countries have come forward with offers of immediate help, to be channelled via the UN and other international relief bodies such as the Red Cross.
$55m from the US
just over $3m from the UK
over $1m in initial assistance from the EU
India, Pakistan, the UAE, Iran, Qatar, Turkey and other countries have also sent aid such as food, shelter and medical supplies.
The Taliban said following the quake that outside aid efforts needed to be boosted because their ability to help those in need was limited.
With few trained personnel to deal with natural disasters or transport facilities to get aid to remote areas, Afghans are dependent on international organisations.
The US has said it's willing to discuss further assistance, although Washington does not currently recognise the Taliban and does not provide it any direct financial aid.
Prior to the Taliban takeover last year, about 80% of Afghanistan's budget came from foreign donors.
However, most of this was suspended after August 2021 and Afghanistan's financial assets abroad (mainly held in the US) were frozen.
Afghanistan is also still under international sanctions, which date back to when the Taliban were first in power in the 1990s, although some exemptions have been made for humanitarian relief.
Some aid has continued to flow, largely channelled through NGOs and multilateral bodies like the UN.
The US has been the largest donor followed by the European Union, some individual EU members as well as the UK and international bodies like the World Bank.
The US has said it is looking into releasing half of the $7bn in frozen Afghan assets in the US for humanitarian purposes, and talks are continuing between US officials and Taliban representatives on how this might work.
But aid agencies say sanctions exemptions (for humanitarian supplies) and the limited release of frozen funds do not address the issue of overall economic collapse.
NGOs and aid groups say that even with the exemptions to sanctions, banks can be reluctant to allow money transfers to Afghanistan.
Efforts to address this and wider economic problems have been complicated by continuing concerns in donor countries about the Taliban's commitment to girls' education, and other human rights issues.
"The humanitarian response cannot sustainably fill the massive gaps that have been left by the wider withdrawal of international support," Vicki Aken, of the International Rescue Committee (IRC) in Afghanistan, says.