Matthew Hunt: Killer of New Zealand policeman sentenced to life in jail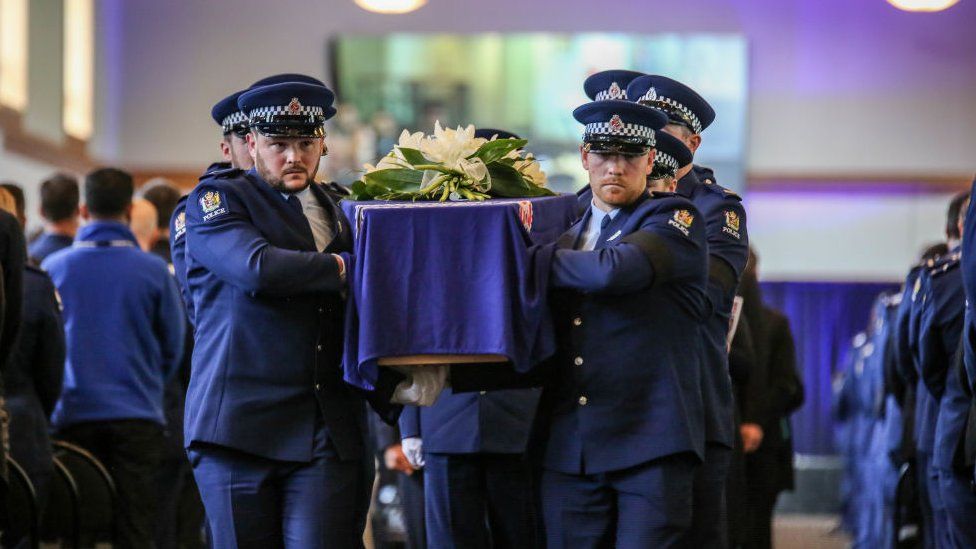 A New Zealand man has been sentenced to life in jail for the murder of a policeman that horrified the nation last year.
Constable Matthew Hunt, 28, was killed in June 2020 when he and his partner approached gang member Eli Epiha after he crashed his car in Auckland.
Epiha, who had been speeding away from traffic police, opened fire as the officers approached to help.
He shot and injured the other policeman before gunning down Constable Hunt.
The officers were unarmed at the time. The murder of Constable Hunt marked the first time a New Zealand officer had died in the line of duty since 2009.
The police force said the officers had approached the crash scene looking to help the driver, and were attacked instead.
'You could have stopped at any time'
On Friday, the High Court delivering the sentence, said that the 25-year-old had shot the fleeing constable four times in the back, pausing and then shooting again even after Mr Hunt had fallen.
The sentencing judge, Geoffrey Venning, described Epiha's actions as callous and cruel. He dismissed the man's claim that he'd acted recklessly without intention.
"You could have stopped any time… but you persisted," Justice Venning said.
Epiha had last year admitted to the murder of Constable Hunt but denied charges of attempted murder on David Goldfinch, the other policeman who was shot three times. A jury however, found him guilty of that charge as well.
On Friday, Justice Venning sentenced Epiha to life in jail for the shootings, with a non-parole period of 27 years. He said he had considered prosecutors' arguments for no parole - noting Epiha's age but also his history of violence and lack of remorse.
"You maintained throughout the trial that your actions were reckless and you refused to take responsibility," he said.
The court also heard from the victim's family. Matthew Hunt's mother said to Epiha: "My son was unarmed and running away from you when you shot him four times in the back."
"I will never ever forgive you."
Diane Hunt also said: "I couldn't have asked for a better son than Matthew. And I will never get over the fact that he lost his life in such a horrific way."
Epiha's uncle has also expressed shame and an apology over his nephew's actions.