China morning round-up: Asean South China Sea warning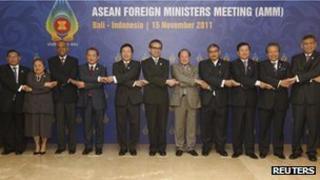 State media in China is carrying warnings of various threats to Beijing's interests in the South China Sea, ahead of the Asean and East Asia Summit in Indonesia.
The Chinese edition of Global Times reports on comments by Philippine Foreign Secretary Albert del Rosario that "Asean must play a decisive role" in solving the sea dispute.
Manila aims at "grabbing resources from Chinese water", warns the Global Times in its headlines.
China's Assistant Foreign Minister Liu Zhenmin repeats that Beijing has long sought a regional code of conduct for the South China Sea "to help properly settle territorial disputes there", says China Daily.
Papers including the overseas edition of People's Daily have also played up a report by the International Monetary Fund (IMF) released on Tuesday, which suggests that China does have a healthy financial system.
But the the People's Bank of China - China's central bank - is still not happy with some aspects of the IMF evaluation.
"The government's sway over financial markets has already evolved from direct intervention to asserting influence through regulation of financial companies," the bank said in a statement, quoted by the China Daily.
In local media, as the national debate on tighter air pollution monitoring standard is still going on, Guangzhou's Southern Metropolis Daily reports that Guangdong Province has actually been monitoring levels of smog-causing PM 2.5 particles since 2007, but never made the data public.
The same paper also says the meteorological office in the eastern city of Nanjing has published an entry on their official Weibo - China's equivalent of Twitter - with the city's PM 2.5 readings from Monday, and has caught much attention.
An officer from the Met Office later told a news website that the entry has been removed, and people who published the entry would be punished for publishing unauthorised data.
In Hong Kong, papers including the South China Morning Post and Ming Pao Daily News have reported on comments from Zimbabwe's President Robert Mugabe as he thanked the local government for protecting his daughter from "harassment" by journalists.
President Mugabe has attended a ceremony at the City University of Hong Kong to witness his daughter's graduation, the university's spokeswoman confirmed.
Bona Mugabe, 22, has received a degree in accounting from the City University.
Her presence caused a row back in 2009 when two of her family's bodyguards allegedly assaulted two British journalists, while Mr Mugabe's wife, Grace, had allegedly assaulted another photographer in a separate occasion.
The authorities in the former British colony took no action against the Mugabes. The Department of Justice cited diplomatic immunity in Grace Mugabe's case.
And just across the Pearl River Mouth in Macau, the city is "celebrating" cash handout by the government for a fifth consecutive year, as announced by Chief Executive Fernando Chui in his annual Policy Address.
Each permanent resident will get 7,000 Macau patacas ($870; £550) in cash, plus further payout to their mandatory pension scheme as well as medical coupon, reports the Standard in Hong Kong.
But when talking about political reform in the "Las Vegas of Asia", Mr Chui said it was Beijing's call, reports the Macao Daily.