China morning round-up: Wen Jiabao vows on child safety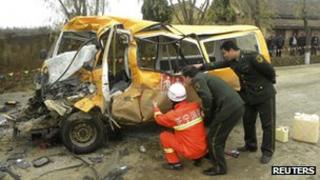 Media outlets across China have focused on Premier Wen Jiabao's promise on child safety in response to a recent deadly school bus crash in Gansu province.
Mr Wen has pledged central and local government funds to provide and improve school bus services, reported on papers including China Daily and People's Daily.
However, web users are still bothered with the news from the weekend that 23 brand new school buses made in China have been donated to Macedonia by the government.
The coach builder who exported these school buses insists that it is the government's decision to donate the buses, reports Guangzhou's Southern Metropolis Daily, while the Global Times' editorial suggests that Beijing's Foreign Ministry should rethink on why they have released the news at this particular moment.
On the other hand, the two editions of People's Daily have been running commentary articles warning the US against ambitious expansions.
The domestic edition's article requests the US to "refrain from 'shaping' the world", while the overseas edition piece says both China and the US should respect the "legitimate interest" of each other in the Pacific region.
Chinese tycoon Huang Nubo's failed bid for Icelandic lands is another feature on Monday's newspapers. Mr Huang has expressed his sense of shock to the English edition of Global Times.
The same paper has also carried a report on the unwillingness for beggars in Beijing to go home, saying they can earn a fortune through begging.
And in Hong Kong, the second candidate for next year's Chief Executive election has declared to run the campaign.
Leung Chun-ying, former Executive Council convener, has launched his campaign "by portraying himself as a devoted family man, a consistent friend and a dedicated professional who rose from humble beginnings", says The Standard, while Ming Pao Daily News says that Mr Leung has vowed to win support from the city's seven million population.
Some 1,200 Election Committee members will pick a successor for Donald Tsang between Mr Leung and former Chief Secretary for Administration Henry Tang, or any other forthcoming candidates. Pro-democracy politicians have been calling for universal suffrage for many years.