China debate over minibus gift following deadly crash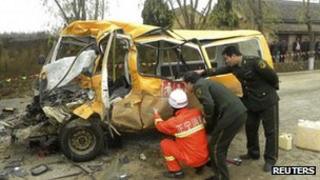 Chinese netizens have voiced anger over the donation of school buses to Macedonia, two weeks after a minibus crash that left 19 children dead.
More than 60 toddlers were packed into the nine-seater minibus, which collided with a truck in Gansu province.
The crash has caused outcry and on Sunday Chinese Premier Wen Jiabao promised to improve child safety.
But his comments were overshadowed by the government's donation of 23 school buses to Macedonia on Friday.
The gift of the brand-new buses was made last Friday at a ceremony in the Macedonian capital of Skopje.
China's Foreign Ministry published the news over the weekend, arousing public criticism.
On Sina Weibo - one of China's Twitter equivalents - more than 480,000 entries on the subject had been published by Monday.
One commentator, Liang Yu, a TV news presenter in the southern city of Guangzhou, asked with an emoticon in tears: "Where are our school buses?"
Yutong Group, who built the school buses, has received phone calls from the public asking if they made the donation.
The coach-builder said however that it was the government's decision to donate the buses, reports Guangzhou's Southern Metropolis Daily.
An editorial published in Global Times suggests that the Foreign Ministry should examine why it chose to release the news at that particular time.
Children are often crammed into buses for journeys to school, particularly in rural areas.
Last year, almost 70,000 people died in road accidents in China.
Mr Wen said on Saturday that the authorities would provide more school buses, saying children should be the last ones in society "to suffer from any disaster".