Severed-hand Taiwan man in China scam probe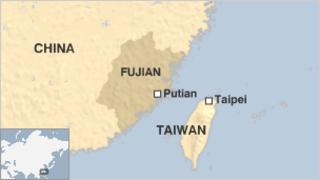 A Taiwanese man has denied accusations by Chinese police that he tried to cut off his own hand in an insurance scam.
Earlier this month Hu Chi-yang said robbers had attacked him for his watch while he was visiting Fujian province.
His injured hand had to be amputated and when he returned to Taiwan he berated Chinese police for keeping it.
But Chinese police said Mr Hu, 60, injured his hand himself so he could collect on lucrative insurance policies.
They say they will return it when the case is closed.
'Sixteen cuts'
The retired businessman had told reporters earlier this month that he was visiting his fiance in Putian in Fujian when three men tried to chop off his hand to take his gold Rolex watch and ring, reports the BBC's Cindy Sui in Taipei.
Doctors later amputated the hand because it was so badly injured that it could not be reattached.
Mr Hu returned to Taiwan in tears, angry that Chinese police refused to give him back his hand.
But China's police on Monday told a news conference that they believe Mr Hu tried to cut off his own hand to collect on insurance policies worth about $1m (£640,000).
They said they had found a cleaver with Mr Hu's DNA on it and a video recording at a knife shop which showed he had bought the knife there. They also said his blood, collected at the scene, contained traces of anaesthetic.
Police also alleged there were 16 cuts, all made in a neat manner, not the typical work of robbers. And instead of calling the police or going straight to a hospital, they said Mr Hu went to his fiance's home after the crime.
But Mr Hu says he is not lying, denying he bought the knife or touched anaesthetic. He said he did not know the way to the closest hospital, so went to ask his fiance.
Taiwanese police are investigating Mr Hu for fraud after insurance companies asked them to, our reporter adds.
Police released him on bail on Tuesday, but refused to comment until the investigation is complete.