China morning round-up: Beijing vows 'black jails' curb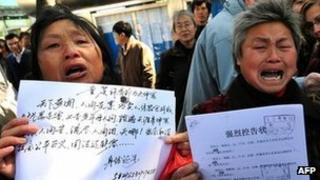 Newspapers in China have discussed the latest pledge by Beijing's police force to crack down on so-called black jails - illegal detention centres used by the authorities to detain petitioners.
The English edition of Global Times says the Chinese capital's Public Security Bureau is targeting "rogue security contractors" that are "illegally intercepting and detaining petitioners".
Petitioners, often with grievances against local officials, travel to Beijing to seek justice from higher authorities.
Allegations have swirled for years that regional authorities arrange for the petitioners to be locked up and eventually sent home to face punishment.
An editorial on Beijing News appeals for greater transparency on judicial procedures when any of these security contractors are being prosecuted "in order to promote the capital's integrity".
Another commentary published in the Beijing Times warns that any perceived tolerance of "black jails" will eventually harm people's trust.
Hong Kong divorce
News on the purchasing managers' index (PMI) falling to 49 in November has also occupied major slots on financial pages, as a PMI below 50 would usually mean economic decline.
Shanghai's China Business News, citing Qu Hongbin, Chief Economist of HSBC China, suggests that Beijing's monetary policy would now be focusing on economic growth instead of inflation.
The People's Daily cites comments from the China Federation of Logistics and Purchasing (CFLP) - which produces the official China PMI - disputing that the Chinese economy is turning into recession.
Markets usually compare China PMIs from both CFLP and HSBC to judge on the actual situation of China's economic growth.
Most newspapers in Hong Kong are still focusing on the deadly fire on Wednesday, but a divorce lawsuit has also drawn much attention.
The High Court in Hong Kong has ordered Samathur Li - son of Hong Kong billionaire Samuel Tak Lee - to pay HK$1.2bn ($154m; £98m) to his ex-wife Florence Tsang.
It is believed to be the highest award given in open court in Hong Kong, reports The Standard, and the paper says the ruling is "further sealing Hong Kong's reputation as Asia's divorce capital"