China morning round-up: Ping-pong diplomacy marked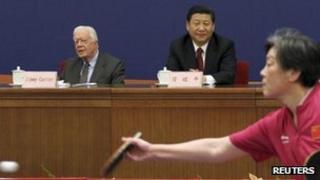 Chinese newspapers devote extensive coverage to the 40th anniversary of the so-called ping-pong diplomacy that paved the way for Washington's recognition of the Communist regime in Beijing.
Chinese Vice President Xi Jinping and former US president Jimmy Carter attended a ceremony in Beijing, reports Friday's China Daily and People's Daily.
A ping-pong match between veteran players from both countries has also been played.
Newspapers in China have also being paying attention to another piece of diplomatic news, where Beijing's Foreign Ministry has said China is not responsible for imposing neo-colonialism on Africa.
"Africa is victimised by agricultural neo-colonialism," said the ministry's spokesperson, Hong Lei, quoted by the China Daily and Guangzhou's Southern Metropolis Daily.
"It is the common responsibility of the global community to facilitate the sustainable development of African agriculture."
Mr Hong's comments are in reaction to "earlier reports by certain Western media outlets", reports say.
Meanwhile, the Chinese edition of Global Times runs a commentary on the delay of a visit to China by Japanese Prime Minister Yoshihiko Noda.
The article described Mr Noda as a man with no credibility, and says China can hardly do any in-depth exchange with him.
China Daily and others also report on a traffic accident in eastern Shandong Province, where at least 50 vehicles were involved in a pile-up.
Two people died in the accident. Authorities blamed a sudden heavy snowfall to be the cause.
And continuing the clean-air discussion, the English edition of Global Times reports that Beijing intends to improve fuel quality, especially by reducing the sulphur content in petrol.
Beijing News have expressed its support to the proposal in its editorial, pointing out that motor emission is the biggest source of PM2.5 - which people across China have been appealing for the government to keep track of.