Christian Bale barred from visiting China activist Chen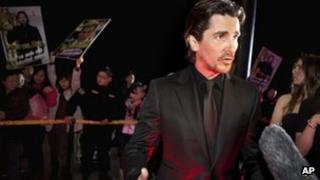 The actor Christian Bale has been blocked by security guards from visiting a Chinese human rights activist living under house arrest.
Footage by CNN showed the Batman star being pushed and shoved by security guards at the entrance to the Shandong village where Chen Guangcheng lives.
Bale is in China promoting The Flowers of War, a film about the massacre of Chinese by the Japanese at Nanjing.
Mr Chen is one of the country's best-known activists.
The blind human rights lawyer was imprisoned after alleging the authorities had carried out forced abortions under the country's one-child policy. He has since been released but activists say he is being confined to his house.
'Newsworthy figure'
Bale travelled to Dongshigu village in the eastern province of Shandong, eight hours from the capital Beijing, with a TV crew from CNN.
He was stopped by unidentified men who ordered them to leave, the video footage indicates.
After Bale asked why he had not been permitted to pass through, the guards tried to grab a small video camera he was carrying.
"What I really wanted to do was to meet the man, shake his hand and say what an inspiration he is," Bale was quoted as saying by CNN.
Earlier this year, a media group, The Foreign Correspondents' Club of China, warned journalists to be careful trying to go to the village, after several cases of reporters being manhandled by security personnel.
CNN said Bale had invited them to join him on the trip.
"Chen Guangcheng is a newsworthy figure... and as such it is in the interest of CNN's global viewers to hear from him," CNN said in a statement.
But the broadcaster's role drew criticism from some who say it raises questions about the distinction between journalism and activism.
"It made me instantly uncomfortable, wondering how it all came together," David Bandurski, editor of the China Media Project website at the University of Hong Kong, told the Associated Press news agency.
"It raises questions about where the lines are drawn."
Bale's new film, which portrays the 1937 massacre of Chinese by Japan's imperial army in Nanjing, is due for release in China on Friday and next week in the US.
The actor has defended it from critics who say it is nationalistic and anti-Japanese, and amounts to propaganda.