Chinese media round-up: Kim Jong-il's death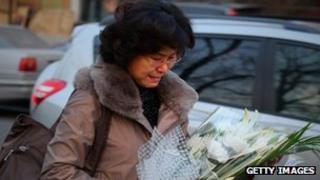 The death of North Korea's "dear leader" Kim Jong-il is dominating the headlines in China's newspapers and social media websites.
The official reaction from China's foreign ministry spoke of "deep sorrow" and offered "sincere condolences", Xinhua News Agency reports.
But China must maintain its "special relationship" with North Korea, Global Times editor Hu Xijin urges on Weibo.
Kim, 69, died of a heart attack on a train outside Pyongyang.
His death was reported on state television in a sombre and tearful statement.
Mourners gathered at the North Korean Embassy in Beijing with flowers, Xinhuanet reports, as coverage also considered the response to his death.
But a lot of media attention has focused on the impact on security and North Korea's relations with its neighbours.
Reports carry official statements from South Korea, the United States, Japan, and other world leaders, and many express concern for stability on the Korean peninsula.
"North Korea is expected to revive", says one Global Times viewpoint article headline. The article cites an interview with an analyst, Mei Xinyu, saying that the communist country "retains a special place in East Asia" despite its current weak economy.
Special coverage 'special coverage' by the People's Daily Online, also features reports and photos on previous meetings between Kim Jong-il and senior Chinese party officials.
Change coming
"North Korea's highest leader Kim Jong-il's death" is the top discussion topic on microblogging site Sina Weibo. The topic's home page features millions of posts and comments.
Some microbloggers are expressing hope for change in North Korea.
"This is an epic event," one microblogger posted. "Perhaps, in the near future, there will be a great change in the people's fate."
"How many more generations of Kims can hold on to power?" asked another Weibo user.
The tone of some posts, however, are less respectful. One post referring to the Christmas tune "Jingle Bells" with the words "Jin Ge bye, Jin Ge bye" ('Jin Ge' means 'Brother Kim'), is being reposted many times.
But most social media users express concerns about the effect of his death on the lives of ordinary people in the country and the impact it has on Sino-North Korean relations.
"Will this change the pattern of world affairs?" asked another microblogger. "Eagerly awaiting the next chapter...."